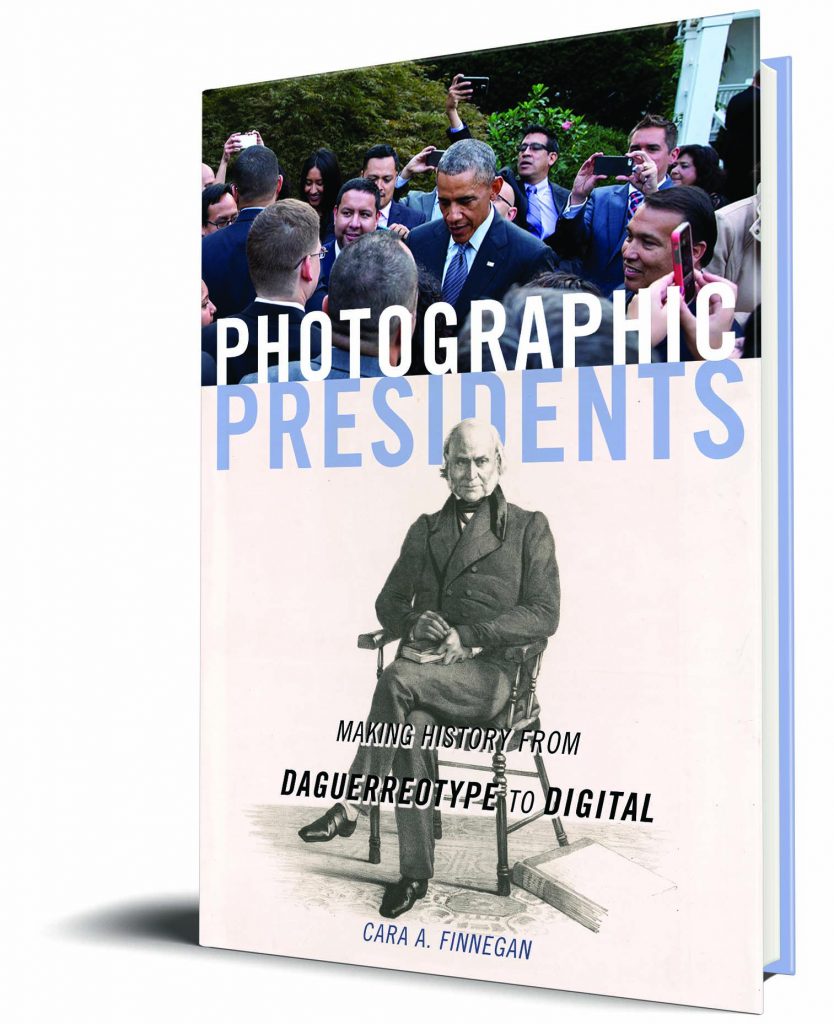 Cara A. Finnegan, author of Photographic Presidents: Making History from Daguerreotype to Digital, answers questions on her scholarly influences, discoveries, and reader takeaways in her book.
Q: Why did you decide to write this book?
The initial idea for the book grew out of my undergraduate teaching. In early 2009 I was teaching a course called Visual Politics, which has a unit on how presidents use visual media to build their political image. When the Obama White House started to post its official photographs on the social media site Flickr, I decided to study them with my students. When I went looking for some background reading to give them on the history of the relationship between presidents and photography, I was surprised that I didn't find much. Eventually, I decided to write the book that I couldn't find.
Q: Who were your biggest influences?
The book relies on the work of scholars from a variety of disciplines. In my field of Communication, I've been influenced by the work of scholars of presidential communication like Vanessa Beasley, Mary Stuckey, and Jennifer Mercieca. The work of art historians, photography historians, and media historians like Marcy Dinius, Keith Davis, David Lubin, and Nancy Martha West also informed the project. But I want to give special recognition to the staff at the Library of Congress (especially curator of photography Beverly Brannan) and the Smithsonian's National Portrait Gallery, who helped me navigate the wide world of presidential photography and its archives. Many of the images in the book come from the collections of these two institutions, and I'm grateful for the work they do to preserve and share our nation's visual treasures.
Q: What is the most interesting discovery you made while researching and writing your book?
Early on I decided to explore the relationship between George Washington and photography. I thought this might be something of a wild goose chase, because Washington died forty years before photography was even invented. Yet it turned out that early photography had a very deep relationship with Washington. Photographers made numerous daguerreotypes of portraits and busts of Washington, sometimes posing small children with the "father of our country." As I argue in a recent piece for History News Network, from its very beginnings, photography needed presidents to authorize its value to the public. Making photographs of images of Washington was one way to prove the new medium's significance as a national, public art form.
Q: What myths do you hope your book will dispel or what do you hope your book will help readers unlearn?
I titled the book "Photographic Presidents" because I wanted to highlight that presidential photography is about so much more than famous photographs of presidents. From the nineteenth-century daguerreotype, the first popular form of photography, to the twenty-first century selfie, photography has never been one thing. The medium shifted and changed multiple times, and presidents had to shift and change along with it. They had to become differently "photographic" with each change. Flipping the script from "presidential photographs" to "photographic presidents" gives readers a new way to understand the history of the relationship between photography and the presidency.
Q: What is the most important idea you hope readers will take away from your book?
Photography and the presidency have been bound up with one another since the beginning, and that interdependent relationship has had a powerful impact on both presidential history and on the history of photography. Today, as photographic technologies continue to shift and change, photography and the presidency continue to shape and define each other.
Q: What do you like to read/watch/or listen to for fun?
I read a lot of fiction and non-fiction; my genre preferences are, as I like to say, "mystery and history." And I am completely obsessed with stories about art theft and art forgery; I swear I have read, watched, and listened to every book, documentary, or podcast out there. I can't get enough!