Mark Walczynski, author of Jolliet and Marquette: A New History of the 1673 Expedition, answers questions on her new book.
Q: Why did you decide to write this book? 
I wrote this book for several reasons. To begin, it's a long overdue and fresh look at the voyage, the people involved, and the village sites visited by Jolliet, Marquette, and their crew. Some of the most popular books about the 1673 expedition and the men involved were written fifty, sixty, or even seventy years ago. Since that time we have learned much about archaeology of the sites visited by the French, about linguistic analysis of indigenous words and phrases, about the climate of the period of French colonization, and the geology of the Midwestern United States and Canada. Much information about the background of events that led to the voyage, its aftermath, and the voyage itself has been shown to be inaccurate, embellished, and sometimes, just plain wrong.
Q: What is the most interesting discovery you made while researching and writing your book? 
There is no single discovery that is the most interesting. This book asks and sometimes answers many, many lingering questions that historians have either avoided or perhaps never thought to ask. For example, what evidence exists that supports the notion that Jolliet and Marquette met to plan a Mississippi voyage prior to December 1672? When did Louis Jolliet first travel to the Great Lakes country? Why was Louis, a relative newcomer to the West, chosen to participate in the 1673 expedition? Which "two Fathers of considerable intelligence" drew, or collected information for the now famous Lac Superieur et Autres Lieux Ou sont les Missions des Peres de la Compagnie de Jesus Comprises sous Le Nom d'Outaouacs map? When was the St. Ignace mission at Mackinac first established, and by whom? Was Louis Jolliet capable of drawing accurate maps in 1674-75? If he was, why did Louis defer making two important maps of the voyage to Jean-Baptiste Franquelin rather than draw them himself? What kind of legal troubles did Jolliet face when he returned from the expedition? What can archaeology tell us about the sites that Jolliet, Marquette, Allouez, La Salle and others visited? On what information did La Salle base his 1678-83 expedition to the Gulf of Mexico? Who were the largest slave owners in the Illinois Country during the French Regime? How were the Illinois and Mississippi Rivers manipulated to facilitate shipping and commerce, and how did those changes impact the environment? How did the Illinois River become a federal navigable waterway?
Q: What myths do you hope your book will dispel or what do you hope your book will help readers unlearn? 
To name a few:
It is likely that the authorities who chose Louis Jolliet to participate in the voyage confused an inexperienced Louis with his well-qualified and well-traveled brother Adrien.
Louis Jolliet was not a capable cartographer at the time of the 1673 expedition.
Jolliet and Marquette could not have met prior to leaving on the expedition.
The Jesuits Allouez and Marquette drew or provided information for the famous 1669 Jesuit map of Lake Superior.  
Q: What is your advice to scholars/authors who want to take on a similar project? 
Network, network, network. Find credible experts in specific fields of knowledge (linguistics, archaeology, anthropology, geology, etc.) to help guide you on your quest to determine what happened, and hopefully why. Many books and articles have been written that are inaccurate because they are based on inaccurate and outdated information.
Q: What do you like to read/watch/or listen to for fun? 
I read history, as well archaeological publications, and journals. More than anything, I love to travel. I travel not only to visit the sites I write about, but also to other lands including the Middle East, South America, Asia, and Europe to get perspective to help me understand how the universe really works.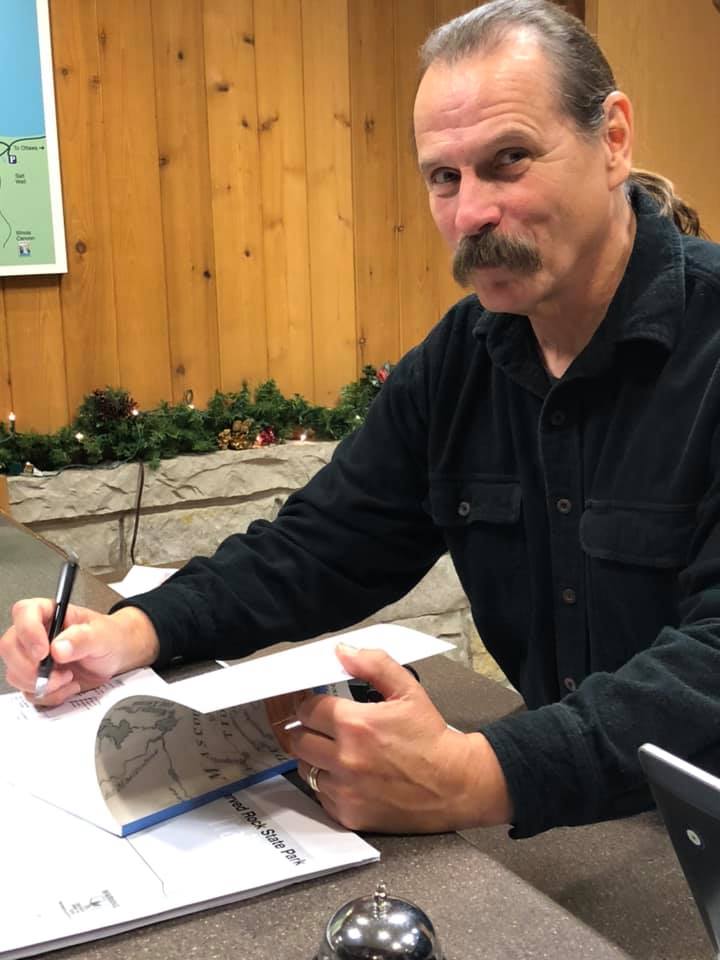 Mark Walczynski is a retired faculty member at Illinois Valley Community College and the Park Historian for the Starved Rock Foundation. He is the author of The History of Starved Rock.