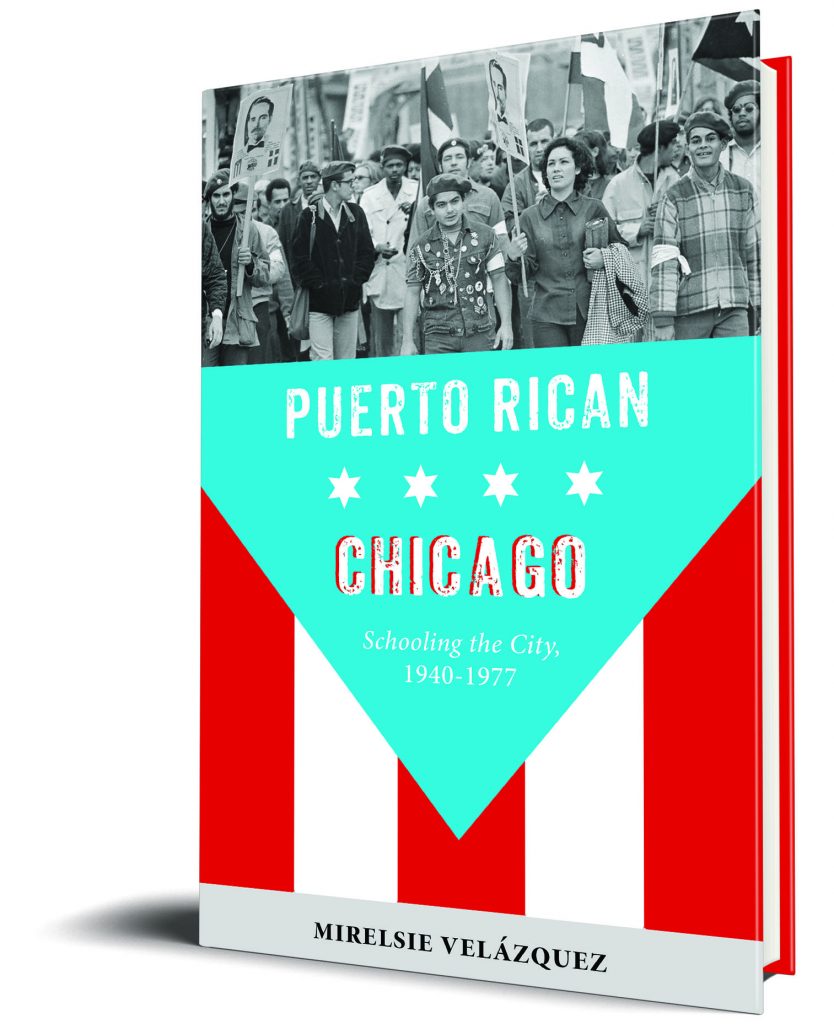 Mirelsie Velázquez, author of Puerto Rican Chicago: Schooling the City, 1940-1977, answers questions on her scholarly influences, discoveries, and reader takeaways from her book.
Q: Why did you decide to write this book?
I think in many ways this story started when I entered my own elementary school classrooms, in the same community I discuss in the book. Although my schooling years don't overlap with the years covered in the book, it is very much my story and helps me understand my own trajectory. There is so much history in our community, and I am proud of it. I wanted to make sure to preserve it somehow, although there is much more than needs to be written.
Q: Who were your biggest influences?
I am lucky to have incredible scholars that have written many of us back into history or have created the spaces for these conversations to happen. I think of Frances Aparicio, Lilia Fernandez, Lourdes Torres, Adrian Burgos, Yoon Pak, to just name a few.
Q: What is the most interesting discovery you made while researching and writing your book?
It was interesting for me to see that the things I took for granted as a kid in my own community, were either due to or influenced by some of the things I write about. For example, the work that Young Lords began in the community is something that we still see today, or the fighting for an increase in Puerto Rican educators for our community. I ended up spending my schooling days with those very educators, learning about my own history. Whenever I visited an archive, I found a bit of history connected to folks I know as well (especially for family members who attended Clemente High School), or who found housing or social services because of advertisement in the newspapers I write about. I inherited much of what I write about.
Q: What myths do you hope your book will dispel or what do you hope your book will help readers unlearn?
One of things that troubles me the most is how little others know or understand about the Puerto Rican community in Chicago, especially around community activism. This is not just a community that things happened to, but a community that has fought to create a sense of home for themselves under their own terms. More so, women are central to that story, and it is something I hope to continue to write about. Often the narrative on Puerto Rican Chicago denies them a sense of history. We need to change that.
Q: What is the most important idea you hope readers will take away from your book?
I hope readers understand the day to day battles a community faces in order to just survive. But also how for a people whose own political identity and claims to home is often denied or not easily understood, that home is something we carry with us.
Q: What do you like to read/watch/or listen to for fun?
I'm almost ashamed to say what I read and watch! (Trash, mainly…) As for music, I am still listening to some of the same music I grew up with (The Cure, Erasure, Depeche Mode, Pulp, etc.) and now mixing it in with Bad Bunny who really does speak to us as Puerto Ricans. Honestly, if folks listened to his lyrics they would understand us a bit more.