Stefanie Hunt-Kennedy answers questions about the inspirations, discoveries and takeaways of Between Fitness and Death: Disability and Slavery in the Caribbean.
Q: Why did you decide to write this book?
I grew up with disabled siblings and a mother who is very passionate about disability rights, so the stories of disabled folks have been close to my heart since a very young age. With the book, I wanted to uncover disability in the archive of slavery and challenge the often 'white' and Western-centric nature of disability history. Scholars of slavery often focus on death as the exemplary image of slavery's violence but I wanted to illustrate the importance of the space between fitness and death, a space of physical and psychological debilitation caused by enslavement itself.
Q: Who were your biggest influences?
The book that has had the most impact on my historical methodology is Michel Rolph Trouillot's Silencing the Past. Trouillot taught me that there is power in the production of history and that studying the past, whether you are conscious of it or not, or whether you accept it, is a decision about how you relate to power. The notion that power silences particular voices in history has been foundational to my approach to both disability history and the history of slavery.
Q: What is the most interesting discovery you made while researching and writing your book?
While researching and writing the book, I became ever more struck by how timely the discussion about racism and ableism is to the present day. If we want to understand how slavery continues to haunt former slave societies, we must look once again at disability. The prevalence of disability caused by poor nutrition and inadequate access to health care in Britain's former colonies is just one manifestation of the slavery's troubling legacy. Rates of incarceration among people of African descent and people with disabilities are another sign of slavery's unquiet ghost. And although the majority of research on the connection between incarceration, race, and disability focuses on the United States, this research is relevant to the wider African diaspora, including the Caribbean. Today, racial minorities and people with disabilities are still being constrained by the prejudiced and racist forces of capital. The criminal justice system in North America, shaped as it is by the prison-industrial complex, was created to uphold capitalism, colonialism, patriarchy, ableism, and racism. These prejudices continue as essential elements in its maintenance.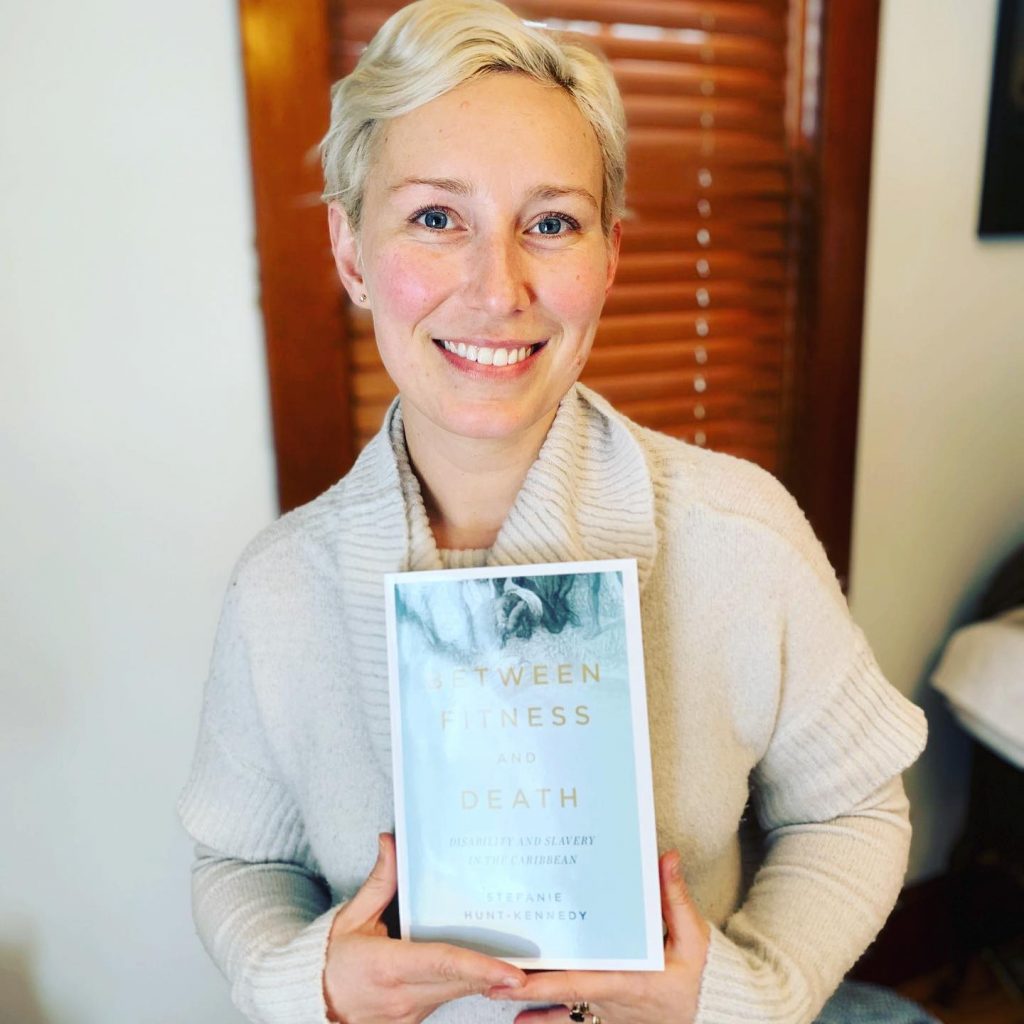 Q: What myths do you hope your book will dispel or what do you hope your book will help readers unlearn?
My research into sugar production on Caribbean plantations challenges traditional Eurocentric timelines of disability history, which maintain that disability in its modern sense emerged with the onset of industrialization in nineteenth-century Europe and North America. Enslaved people experienced impairment in factory-like settings long before workers in industrial Europe and North America. Therefore, slavery was crucial to the development of discourses of disability. In this sense, I hope my book works to dispel what historians of Caribbean slavery have been arguing for generations — that slavery reveals the Western-centric bias of pre-modern versus modern – and to recentre the Caribbean and, specifically the enslaved people of the Caribbean, as an essential part of broader disability history.
Q: What is the most important idea you hope readers will take away from your book?
One of my most important scholarly interventions is my argument that African humanity was the fundamental problem of slave law as well as what made slavery possible and profitable. British Caribbean slave law deliberately constructed the enslaved as somehow both human and animal, and yet not fully either. By not resolving the tension between the human and the animal, lawmakers and slaveowners alike could recognize the humanity of the enslaved but effectively disable it by treating them like animals. This is crucially different from saying that slave law dehumanized the enslaved. It is widely assumed that systems of mass slaughter and exploitation, like slavery, were also systems of dehumanization. I argue, by contrast, that in order to justify the systematic exploitation, persecution, and murder of an entire group of people (blacks, in this instance), the perpetrators of systematized racist violence tend to construct a danger based on anthropological uncertainty. In this way slave law and racial ideology created a legal category of abject (and disabled) humanity in order to exploit enslaved Africans and grant their owners the power to destroy them through disabling punishments and brutal labour regimes.
Q: What do you like to read/watch/or listen to for fun?
Read: I love reading historical fiction and specifically the canonical literature of the Anglophone Black Atlantic World. Marlon James, Toni Morrison, Yaa Gyasi, Lawrence Hill, and Isabel Allende are some of my favourite writers of this genre.
Watch: Some of my favourite shows of the past few years are Fleabag, Broad City, Schitt's Creek, and Master of None.
Listen: Graeme Kennedy is my favourite musician and artist (I may be biased). Check out his newest single, High Ceilings, here: https://www.loosemath.com/highceilings