This is the first post of a multi-part series by Fran Markowitz—author of the new book Sarajevo: A Bosnian Kaleidoscope—on her recent trip to Sarajevo and Banja Luka, Bosnia-Herzegovina, August 23-31, 2010.
*****
Part I: Radiant Reunions
August 23rd
Reconnoitering Sarajevo:
Each time I return to Sarajevo, I find something new in the cityscape. And this time is no exception.
The first thing I noticed is the memorial fountain that commemorates the children of Sarajevo who were wounded during the 1992-95 siege. The cool, green fountain sits on the gray, grenade-pocked sidewalk in front of a municipal park, where white obelisks dot the emerald grass.
The second thing that struck me was far more garish. For over a decade, the cement foundations of what had been socialist Sarajevo's Robna Kuća department store sat as a hulking skeleton in the city center. In 2008 it had been an enclosed construction site. Two years later, it opened as the BBI Centar, a five story shopping mall financed by the Islamic Development Bank, Abu Dhabi Islamic Bank, and Dubai Islamic Bank te Bosna Bank International d.d. Sarajevo. The Centar boasts high-end boutiques that offer clothing, shoes, handbags and luggage, perfume and bath soaps, and all kinds of accessories; there are also hair, skin and fitness salons, and cafes. A big, bright, KONZUM (Croatia's largest supermarket chain) is located on the ground floor. Signs advertising drastic reductions of 50-70% off regular prices were in nearly every shop window, but it looked to me that there were many more browsers than buyers.
Just across the plaza sits Cinema City, where its six theaters show current European and American hits. I made a mental note to come back later in the week to see Inception, for the ticket price of 6 KM, or 3 Euros.
I began my visits.
My first stop was to Dr. Husnija Kamberović, director of the Institut za Istoriju, my official host institution in 2004. I find Husnija in his office poring over pages of the newspaper, Oslobodjenje from 1973. He greets me with a smile; I give him a copy of Sarajevo: A Bosnian Kaleidoscope. We talk about having it reviewed in the institute's journal, Prilozi, and then move on to discuss current happenings. Many young people, Husnija informs me, are interested in contemporary history, and the Institut now has over a dozen of them on its staff of 28. We exchange personal news and catch up on common acquaintances, especially Amila and Melisa. Husnija offers his phone so that I can call Amila. She greets me with a rapid-fire flow of Bosnian. I laugh, ask her to slow down, and tell her that I'll be with her in a matter of minutes. I take my leave from Husnija, exit the institute and walk down the hill and westward to the Filozofski Fakultet of Sarajevo University.
It is an usually hot summer day, and there is no air-conditioning in the Filozofski Fakultet. In the office that she shares with her husband in the History Department, Amila is wearing a long-sleeved tunic over slacks, and her long, shining dark hair flowing over her back. This year Ramadan has fallen in August, and Amila and her husband are observing the fast. Amila greets me with a cheery smile and gives me a glass of water. We sit and talk about her daughter who is now 2-1/2 years old, her completed MA thesis, and her current doctoral project. A friend enters the office with a bag full of beaded jewelry. This friend had also studied history during the BA and currently teaches seventh grade. She came to confer with Amila about selecting a textbook for her class. Her jewelry business is both a hobby and a sorely needed source of income because her teaching job is only part-time. Is it a budget matter? I ask. No, she responds, it's due to a lack of children. I silently remind myself that the Bosnian wars ended only fourteen years ago; that the economy was devastated, and that young people are taking their time to get married and begin having families of their own.
Amila and her husband are part of that generation. They married in 2007 and had their daughter a year later. Since each is employed in the university as an asistent—assistant to the professor–they are doing all right. Many assistants like Amila and her husband first earn the Master's degree and then go on to complete the doctorate. They are both planning careers as academic historians.
Later in the day I go to visit my friend Klara, who lives on the top floor of an apartment building that overlooks the BaÅ¡Ä?arÅ¡ija and the surrounding mountains. We sat on the balcony, enjoying the fresh air as we talked. Suddenly there is a BOOM and a starburst appears above the mountain. I thought it was the beginning of a fireworks display, but Klara informed me that that's it! One boom and one starburst every evening during the current month of Ramadan at sundown lets everyone know that they may now begin the Iftar meal.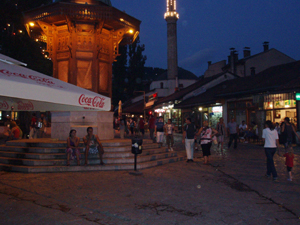 We talked about what seems to be a steadily increasing gap between rich and poor, and a greater Islamicization of the public sphere. Klara contrasted this with what she fondly remembers as the inclusive, secular public sphere of socialist Yugoslavia. I asked about the upcoming elections. She and her husband agreed that the only alternative to the nationalists is SDP (the Socialist Democratic Party), but even that party is rife with dissent. Stagnation and apathy are all around.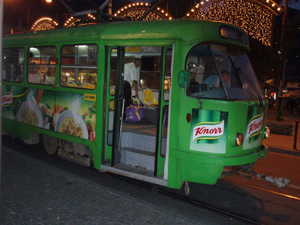 "But," Klara reminded me, "What bothers me the most is people coming from the EU and America to teach us democracy. Here in Bosnia, in Yugoslavia, we lived together as neighbors and friends in mutual respect. We know how to behave with consideration and kindness."
After a long but fulfilling day my impressions of Sarajevo are that people look more prosperous and vital than on my previous visits. In the city center there are banks, banks, and more banks everywhere—most of them from foreign countries. Cafes are blaring music, and some have TV screens showing sports events and music concerts. New shopping centers are opening, but I wonder, Who can afford their luxurious offerings if 1000 KM (500 euros)/month is considered a good salary?
*****
Fran Markowitz is a professor of cultural anthropology at Ben-Gurion University of the Negev in Israel and the author of Sarajevo: A Bosnian Kaleidoscope.