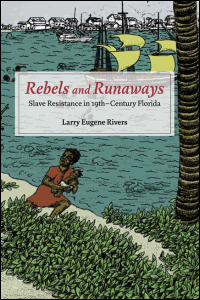 Larry Eugene Rivers's recent book Rebels and Runaways: Slave Resistance in Nineteenth-Century Florida has received the Bronze Medal in the Florida Book Awards Nonfiction Category for 2012.
Published in July 2012, Rebels and Runaways analyzes the various degrees of slave resistance—from the perspectives of both slave and master—and how they differed in various regions of antebellum Florida. In particular, the book demonstrates how the Atlantic world view of some enslaved blacks successfully aided their escape to freedom, a path that did not always lead North but sometimes farther South to the Bahama Islands and Caribbean.
A banquet was held for all Florida Book Awards winners on March 19th at the Mission San Luis in Tallahassee, FL.
Congratulations Dr. Rivers!