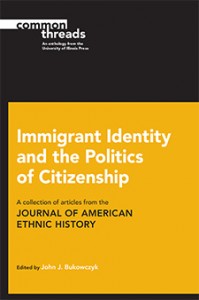 The latest e-book in our trendsetting Common Threads series, Immigrant Identity and the Politics of Citizenship draws on decades of scholarship to provide the context for current discussions about immigration, a topic of national importance and without a doubt one of the flash points of this year's presidential election.
Editor John Bukowczyk curates fourteen articles that explore the challenges of the myriad divisions and hierarchies that immigrants to the United States must navigate and the cultural and political atmospheres they encounter. The book includes a substantial introduction from the editor that highlights the themes linking each chapter.
Topics cover an enormous ranges of groups, ideas, and theoretical approaches. Articles examine: the fraught relationships between Native Americans and immigrants; foreign policy and immigration control in New York state through 1882; American immigration policy regarding the disabled in the late nineteenth- and early twentieth-century; the British Caribbean experience in the mid-1920s; race, nationality, and the so-called "New Immigrant" working class; how race and nation get constructed on the U.S.-Mexico border; ethnic and religious tolerance in the World War II era; love, family, and non-whiteness in California between 1925 and 1950; the wide-ranging impact of the 1965 Immigration Act; and the ways Cuba's gay exile community mediated Cold War foreign policy and U.S. citizenship. The complete Table of Contents is here.