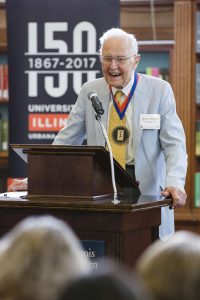 July saw the passing of Winton U. Solberg, professor emeritus of history at UIUC and author of multiple books published by UI Press. Wint's books, all published with the UI Press, include two volumes on the history of the University of Illinois from its beginning to 1904, a book on Illinois's College of Medicine from 1880 to 1920, and a volume on the creation of the Big Ten athletic conference. He was writing and researching until his last years, and he occupied a study in the University of Illinois Main Library, where for more than 50 years he worked assiduously, many days a week, until he was 96. He is pictured here at the 2017 ceremony where he received the UI's Chancellor's Medallion, the University's highest honor.
Wint's book Arctic Mirage: The 1913-1920 Expedition in Search of Crocker Land is currently in press at MacFarland Publishers. Wint's final project, a biography of Edmund J. James, first president of the University of Illinois, is in preparation for UIP with the help of Wint's friend, colleague, and early graduate student, David Hoeveler. The Press will be represented at an event October 4, at 3:00 at Levis Faculty Center, celebrating Wint's legacy and contributions to UIP, the UIUC Department of History, and University Archives.
Photo by L. Brian Stauffer.