As winter turns up its final furies on the Northern Hemisphere, those snowbirds in stirrups depart for Florida and Arizona, there to prepare body and soul for the baseball season ahead. This is the time of year when baseballers get the party started at their team facilities in the Sun Belt.
Today's diamond heroes tend toward the healthier side, eating their fruits and churning up smoothies replete with kale and root vegetables. (There are exceptions.) After all, these fellows have millions to lose, and forty years into free agency have, to greater and lesser degrees, come to see themselves as corporations in boot black. When just one extra season on the field means huge money, that getting to bed early thing becomes a priority.
Not to say today's players are all choirboys. But things have changed, the money and the nutrition, to say nothing of the chemicals.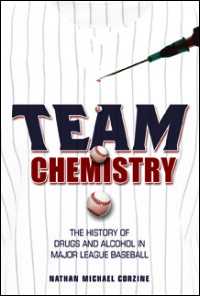 In his new book Team Chemistry, Nathan Michael Corzine follows the colorful history of alcohol, drugs, and tobacco in Major League Baseball. It's a compendium of amazing stories, of Hall of Famers taking drugs meant for horses and so on. In the excerpt below, Corzine takes us beyond the usual enhancements frowned upon by contemporary league officials to those most mainstream of pharmaceuticals: chill pills, tranquilizers if you prefer, and how the admirable negation of anxiety could change careers. He considers the case of bonus baby-turned-near-bust Reno Bertoia, and how it all turned around for the Detroit shortstop:
That is when former New York Giants slugger turned Tiger broadcaster Mel Ott stepped in. Ott had noticed how tense Bertoia appeared at the plate. He sent Tigers trainer Jack Homel with a message and a suggestion for Reno. Bertoia promptly began taking the tranquilizers Equanil and, later, Sedayml. Buoyed by his new medicine, the handsome young infielder finally began living up to his contract. Weeks into the 1957 season Bertoia was leading the league in batting, his .380 clip placing him ahead of All-Stars Ted Williams and Detroit's own Al Kaline. His sometimes erratic fielding had improved as well; he was virtually errorless in the field. It was as if he had morphed into an entirely different player. When asked to explain his newfound success, Bertoia was honest. "I swallow one little white tranquilizer pill a half hour before each game. Occasionally, if things get a little tense, I'll take the top off my bottle and take another."

Bertoia, however, was not the first Detroit-area athlete to try tranquilizers. Teammate Al Aber, a pitcher, routinely used tranquilizers to ease muscle tension in his legs. The pills were making the rounds in other sports, too. Osteopath Richard Thompson, the team physician for the Detroit Lions football team, recalled: "We used them on at least five Lions last year [1956], and we intend to continue to use them." Not everyone was thrilled with Bertoia's remarkable transformation. The Tigers' resident medical expert, Dr. Luther Leader, was concerned that Bertoia's success might convince others to seek the aid of "happiness pills" even if they didn't really need them. Leader suggested that Bertoia, now that his original worries had been eased, should dispense with the pills. Bertoia was understandably reluctant. "I wouldn't give them up for the world," he said. "Not with this batting average."