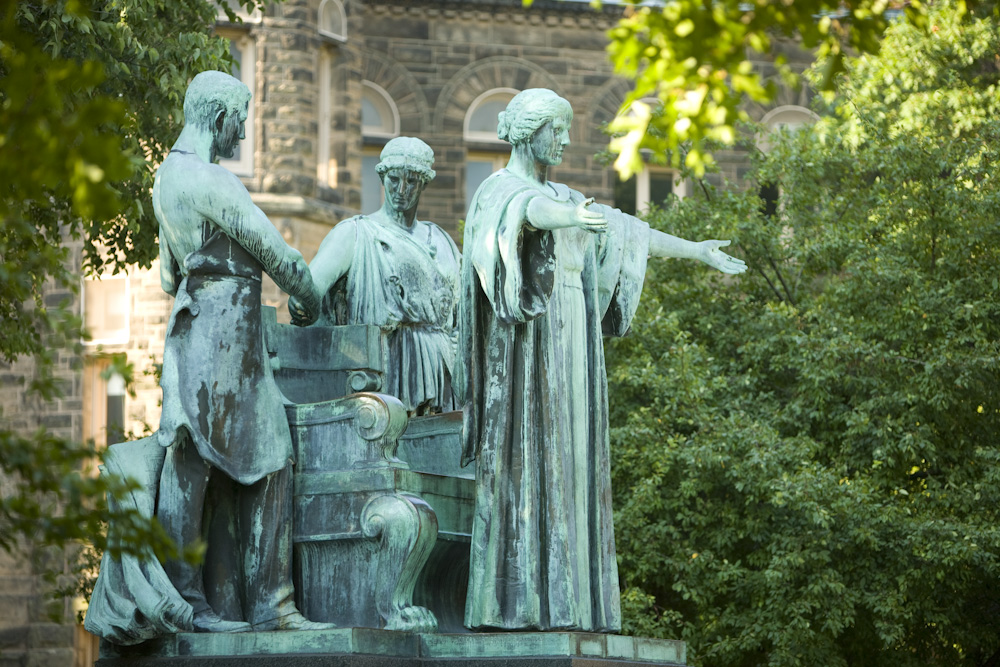 The pre-restoration Alma Mater.
Today the famed statue makes its long-awaited return to the University of Illinois campus after a ten-month restoration treatment. Though completed in 1929, the Alma Mater had taken shape in the mind of creator Lorado Taft years earlier. In fact, he claimed the idea for the figures in the piece to clasp hands dated back to a work he had done in 1883.
The late art historian Allan Stuart Weller picked up the story in the new book Lorado Taft: The Chicago Years, the second part of his biography of the iconic sculptor:
Taft envisioned his Alma Mater as a benign and magnificent woman, about fourteen feet high and dressed in classical draperies, rising from a throne and advancing a step forward with outstretched arms in a gesture of generous greeting to her children. Two figures behind her on either side represent the university's motto, "Learning and Labor." The female personification of Learning is a modification of the ancient Greek statue called the Lemnian Athena, who clasps hands with a sturdy male allegorical figure of Labor.
Taft had a clear idea of how he wanted to display his work, and made it clear he preferred the bright sunlight south of an auditorium. But the final bronze sculpture of the Alma Mater ended up in the relatively shady confines at the entrance to the university, there to serve as the backdrop to countless graduation day photos.
Thanks to the diligent work of Robert G. La France, Curator of Pre-Modern Art at Krannert Art Museum, along with Henry Adams and Stephen P. Thomas, Weller's scholarship on Taft comes to full view in Lorado Taft: The Chicago Years.
Photo: Alma Mater (detail displaying throne and figures of Learning and Labor, bronze, 1929, University of Illinois, Urbana-Champaign (artwork in the public domain; photograph provided by University of Illinois Public Affairs).