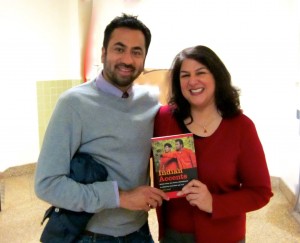 Shilpa Davé writes about the "brown voice" of South Asian characters in tv and on film in her book Indian Accents: Brown Voice and Racial Performance in American Television and Film.
Featured on the cover of that book is actor Kal Penn in a still from the movie Harold & Kumar Escape from Guantanamo Bay.
Both Davé and Penn recently attended the Beyond Bollywood Film Festival at the Smithsonian National Museum of Natural History in Washington, D.C.
The pair posed for the photo above after Davé interviewed Penn after a screening of his film The Namesake.
Indian Accents also amplifies the work of South Asian American actors who push back against brown-voice performances, and challenge such narrow stereotypes.