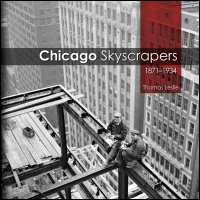 Thomas Leslie's new book Chicago Skyscrapers, 1871-1934 is today's Shelf Awareness Book Trailer of the Day.
And, Dr. Leslie was interviewed on the June 7, 2013, edition of WGN-TV's Midday News.
Chicago Skyscrapers begins in the key period of reconstruction after the Great Fire of 1871 and concludes in 1934 with the onset of the Great Depression. During this time, such iconic landmarks as the Chicago Tribune Tower, the Wrigley Building, the Marshall Field and Company Building, the Merchandise Mart, and many others rose to impressive new heights, thanks to innovations in building methods and materials.