A Hard Fight for We: Women's Transition from Slavery to Freedom in South Carolina, by Leslie A. Schwalm
African American women fought bravely and tenaciously for their freedom during the Civil War and after. Focusing on slave women on the rice plantations of lowcountry South Carolina, Leslie A. Schwalm explores women's vital roles in antebellum plantation life and in the wartime collapse of slavery, and their efforts as freedwomen to recover from the impact of war while redefining life and labor in the postbellum period. Freedwomen fiercely asserted their own ideas of what freedom meant and insisted on important changes in the work they performed for white employers and in their own homes. They rejected the most unpleasant or demeaning tasks, guarded prerogatives gained under a slave economy, and defended their vision of freedom against unwanted intervention by Northern whites and the efforts of former owners to restore slavery's social and economic relations during Reconstruction.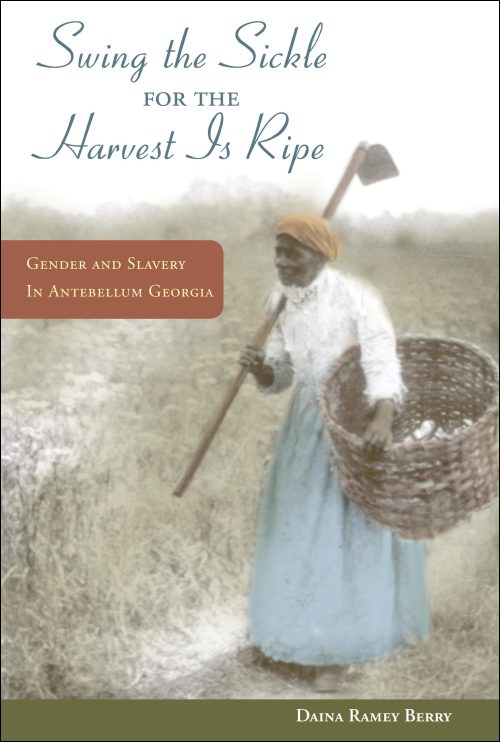 "Swing the Sickle for the Harvest Is Ripe": Gender and Slavery in Antebellum Georgia, by Daina Ramey Berry
"Swing the Sickle for the Harvest Is Ripe" compares the work, family, and economic experiences of enslaved women and men in upcountry and lowcountry Georgia during the nineteenth century. Mining planters' daybooks, plantation records, and a wealth of other sources, Daina Ramey Berry shows how slaves' experiences on large plantations, which were essentially self-contained, closed communities, contrasted with those on small plantations, where planters' interests in sharing their workforces allowed slaves more open, fluid communications. By inviting readers into slaves' internal lives through her detailed examination of domestic violence, separation and sale, and forced breeding, Berry also reveals important new ways of understanding what it meant to be a female or male slave, as well as how public and private aspects of slave life influenced each other on the plantation.
Mistresses and Slaves: Plantation Women in South Carolina, 1830-80, by Marli F. Weiner
Marli Weiner challenges much of the received wisdom on the domestic realm of the nineteenth-century southern plantation, a world in which white mistresses and female slaves labored together to provide food, clothing, and medicines to the larger plantation community.
Although divided by race, black and white women were joined by common female experiences and expectations of behavior. Because work and gender affected them as much as race, mistresses and female slaves interacted with one another very differently from the ways they interacted with men.
Telling Narratives: Secrets in African American Literature, by Leslie W. Lewis
Telling Narratives analyzes key texts from nineteenth- and early-twentieth-century African American literature to demonstrate how secrets and their many tellings have become slavery's legacy. This study focuses on the ways secrets are told in abolitionist texts and in novels of uplift, including those by William Wells Brown, Jessie Fauset, Charles W. Chesnutt, Martin Delany, Frances E. W. Harper, Pauline Hopkins, James Weldon Johnson, and Frederick Douglass. In examining how racial and sexual secrets are kept and told in these works, Leslie W. Lewis traces how interaction between masters and female slaves became central to a developing African American literary tradition.