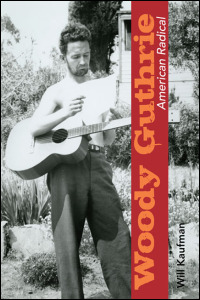 Finished copies of Will Kaufman's book Woody Guthrie, American Radical arrived from the printer last week. The official publication date is April 11, 2011, but the book is starting to make its way to brick & mortar and online retailers.
Though Will Kaufman is based in the UK, he will be traveling to the United States for a coast-to-coast July/August book tour. Highlights include LaborFest in San Francisco, Tattered Cover in Denver, The Heartland Cafe in Chicago, and multiple Barnes & Noble dates on the east coast. See the current schedule here.
Look for more dates to be added soon.