Bas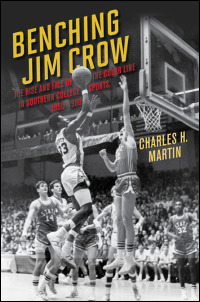 ketball fans around the country are being swept up this week in the annual "March Madness." The first week of competition in the NCAA men's tournament includes the infamous one-sided matchups between the powerhouse #1 seeded teams and their lowly #16 ranked opponents, a mismatch that the feeble Lilliputians have never won.
Usually one or more of the #16 seeded teams comes from conferences made up by Historically Black Colleges and Universities (HBCU's). This year's participation by Alabama State and Hampton will add no more that a fleeting footnote to the larger drama focusing on such widely-followed teams as Kansas, Duke, and Ohio State. Yet until 1957 racial discrimination prevented HBCU's from joining the NCAA and participating in the national tournament, even as roadkill for a powerful opponent.
It was actually a rival organization, the National Association of Intercollegiate Athletics (NAIA), that first admitted black colleges. The NAIA was hardly color-blind; in fact, it had excluded African Americans on white teams from its national tournament until 1948. Nonetheless, the organization accepted its first black member institution in 1951 and welcomed Tennessee A & I (later Tennessee State) into the 1953 NAIA Tournament. Coached by the legendary John McLendon, the Tennessee squad captured the tournament championship in 1957, 1958, and 1959, demonstrating the high quality of black college basketball.
In order to compete with the NAIA, the NCAA responded in 1956-57 by creating a small college (later Division II) national tournament and accepting HBCU's as members. Jackson State participated in the first round of the 1957 tournament but was forced by white segregationists to withdraw when it then was matched against a white team from the Midwest.
Eventually most HBCU's joined the NCAA and moved up to Division I status. There, due to the loss of the top African American athletes to white universities and the limited financial resources made available to them by tight-fisted state legislatures, HBCU teams fell back into the shadows of national competition. Nonetheless, their earlier history, mostly forgotten today, reveals part of the complicated history of American race relations and college sports.
*****
Charles H. Martin is an associate professor of history at the University of Texas at El Paso and the author of Benching Jim Crow: The Rise and Fall of the Color Line in Southern College Sports, 1890-1980.