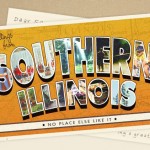 Inside Higher Ed blogger and local UI personality Oronte Churm has launched perhaps the first ever "Southern Illinois Rocks" online contest in celebration of the publication of his novel, A Democracy of Ghosts.
The book is set in southern Illinois, the part of our state known as Egypt (frequently confused with Little Egypt, a burlesque dancer who appeared at the 1893 World's Columbian Exposition in Chicago).
Among Oronte's many fine prizes are a couple from us: UIP's backlist classic Bloody Williamson by Paul M. Angle and a 3-volume set of the Folksongs of Illinois CDs, hidden gems that we distribute for the Illinois Humanities Council.
Enter by July 10 for your chance to win. Support regional writers. Visit Egypt. (And if you can guess which former UIP employee is now Mrs. Churm, you'll win a prize from me.)