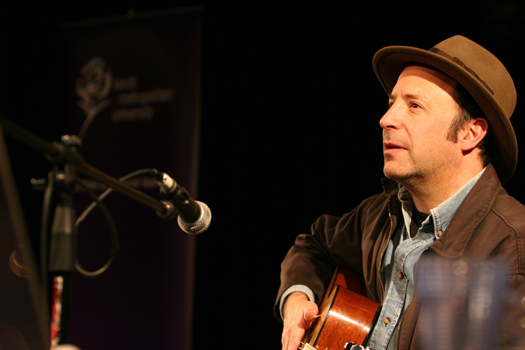 Will Kaufman, author of the new book Woody Guthrie, American Radical, is starting his cross-country U.S. tour in two weeks in Los Angeles. Most of Kaufman's presentations will include performances of Woody Guthrie songs, a discussion of Guthrie's politics, and a book signing.
Some real folk luminaries have offered high praise for Kaufman's Guthrie performances:
"No one can understand the American people without listening to Woody Guthrie. Will Kaufman's doing important work here." —Tom Paxton
"I thank Will Kaufman for introducing a new generation of Europeans to 'the other America.' It's a wonderful job he's doing." —Pete Seeger
"I am paraphrasing Woody Guthrie when I say, 'Anyone spreading the word about the music, writing, art and humanity of Woody Guthrie sure is a true friend of mine!' Keep up the great work, Professor Will!" —Ralph McTell
If Will Kaufman visits your hometown, please stop by his performance and say hello.
July 20 – LA Laborfest – Los Angeles, CA
July 21 – Book Soup, West Hollywood, CA
July 24 – LaborFest, Mission Cultural Center for Latino Arts, San Francisco, CA
July 24 – 518 Valencia, San Francisco, CA

July 28 – Salt Lake City Public Library, Salt Lake City, UT
August 1 – Tattered Cover (Colfax Ave.), Denver, CO
August 5 – Front Porch, Valparaiso, IN
August 6 – Heartland Cafe, Chicago, IL
August 10 – Nashville Public Library, Nashville, TN
August 16 – New Dominion Bookshop, Charlottesville,VA
August 17 – Smithsonian Institute's National Portrait Gallery, Washington, DC
August 21 – Barnes & Noble, Philadelphia, PA
August 23 – Barnes & Noble (Upper West Side), New York, NY