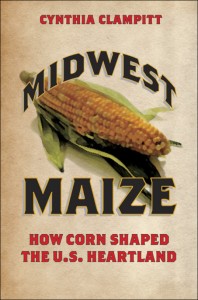 Tonight Cynthia Clampitt continues her barnstorming book tour of the Midwest with a reading a book signing in Winfield, Illinois. (Seven p.m. at the Public Library.) To celebrate, the blog shares one of the recipes Clampitt collected in Midwest Maize, her popular history of corn and its countless products.
It is daring to print a cornbread recipe because, as most of us know, a lot of cooks and restaurants manage to screw up cornbread. Conceived long ago as the People's Food, i.e. filling but not expensive, and fairly simple to make, cornbread nonetheless vexes many amateur and pro bakers alike. Finding a good recipe, or a good location for buying it, remains a grail.
Crescent Dragonwagon, author of The Cornbread Gospels, shared one of her go-to recipes in Midwest Maize and we present it not only with pride, but as a public service to cornbread fans everywhere.
Gold and White Tasty Cornbread
Vegetable oil cooking spray
1 cup unbleached white flour
1 1/2 cups stone-ground white cornmeal
1/4 cup sugar
1 1/2 teaspoons baking powder
1/2 teaspoon baking soda
1/2 teaspoon salt
1 egg
1 cup plus 2 tablespoons buttermilk
3 tablespoons mild vegetable oil
1/2 cup canned cream corn
1. Preheat oven to 400 degrees F. Spray a 9-inch square baking pan with oil, and set aside.
2. Combine the flour, cornmeal, sugar, baking powder, baking soda, and salt in a medium bowl.
3. Break the egg into a second medium bowl, and whisk it well. Whisk in the buttermilk, vegetable oil, and creamed corn
4. Combine the wet and dry ingredients with as few strokes as possible, and scrape the batter into the prepared pan. Bake until golden brown, 25 to 30 minutes.