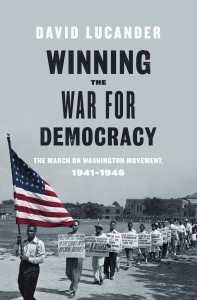 Winning the War for Democracy: The March on Washington Movement, 1941-1946 by David Lucander has won the 2015 Missouri History Book Award, given by the State Historical Society of Missouri.
The award is given to the author of the best book written on the history of Missouri and was be awarded at the society's annual meeting in Columbia, Missouri, October 17.
Winning the War for Democracy recalls the triumph of the March on Washington Movement (MOWM), which pressured Franklin D. Roosevelt's administration to advance civil rights.  Their efforts led Roosevelt to issue a landmark executive order that prohibited defense contractors from practicing racial discrimination.
Many give credit to MOWM leader A. Philip Randolph for the group's achievements. Lucancer looks beyond Randolph and the MOWM's national leadership to focus on the organization's evolution and actions at the local level, with special attention given to organizers in St. Louis.
You can read a Q&A with author David Lucander about Winning the War for Democracy here.