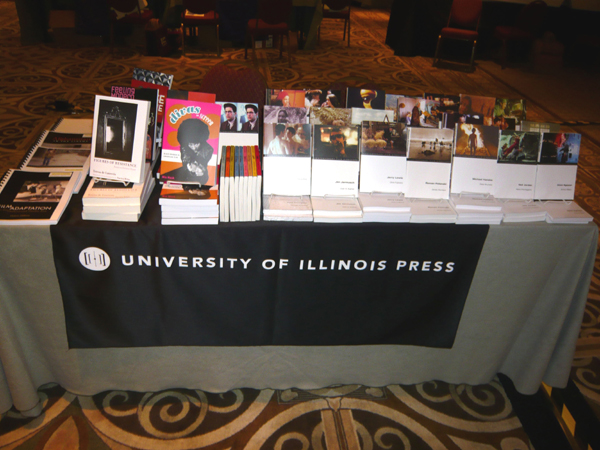 The University of Illinois Press exhibited its new books in film and media studies at the 2010 convention of the Society for Film and Media Studies in Los Angeles, March 16 through 21. Due to cancellation of the 2009 convention (it was to be held in Tokyo, but the swine flu scare played havoc with that), the 2010 convention carried out the programs for both years. The undercurrent of every discussion seemed to be the financial straits of colleges and universities in the United States, but those anxieties did not prevent scholars from enjoying a busy conference.
The UIP display featured the Contemporary Film Directors Series, the two debut books in our new series, Women and Film History International, and the newest titles in film and media studies.
Many UIP authors attended and came by to chat, ask about their books, and inquire about forthcoming projects. We had the pleasure of speaking with Nora Alter (University of Florida), author of Chris Marker; Mark Cooper (University of South Carolina), author of Universal Women: Filmmaking and Institutional Change in Early Hollywood; Lester Friedman, author of Citizen Spielberg and editor of Unspeakable Images: Ethnicity and the American Cinema; Mia Mask (Vassar College) author of Divas on Screen: Black Women in American Film; Victoria Sturtevant (University of Oklahoma), author of A Great Big Girl Like Me: The Films of Marie Dressler; and Virginia Wexman (University of Illinois, Chicago), co-editor of Women and Experimental Filmmaking.