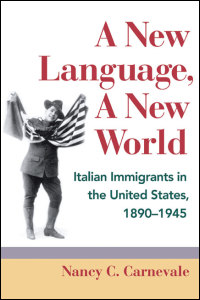 A New Language, A New World: Italian Immigrants in the United States, 1890-1945 by Nancy C. Carnevale was selected as a winner of an American Book Award for 2010.
The book examines Italian immigrants and their children in the early twentieth century and is the first full-length historical case study of one immigrant group's experience with language in America. Choice wrote: "Outstanding from start to finish. . . . The author displays exceptional range and depth in exploring not only the interior world of Italian American life, but also the intersections of this group's story with that of other immigrant communities and with society as a whole. . . . Highly recommended."
Congratulations, Nancy!