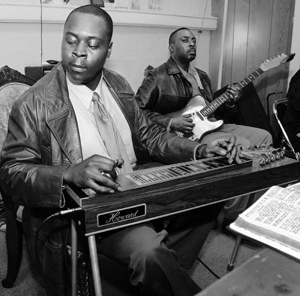 I look forward to visiting Mississippi this winter to continue documenting musicians from the Jewell Dominion side of the sacred steel guitar tradition.
Shown here, left to right, are Jamel and his father James Woffard of Tupelo, who take turns playing steel and rhythm guitar for worship services. Elvis Presley and his family lived within a few blocks of the Jewell Dominion church in Tupelo, and oral history told by older church members holds that young Elvis attended their tent revivals circa 1948. Mississippi remains a stronghold for the Jewell Dominion steel guitarists who play passionately for spirited services at several churches throughout the state.
*****
Robert L. Stone, author of the new book Sacred Steel: Inside an African American Steel Guitar Tradition, is an independent folklorist, musician, and media producer living in Florida. He has produced eight sacred steel albums for Arhoolie Records and directed the documentary video Sacred Steel for the Arhoolie Foundation.