On this day in 1947, the City of New Orleans made its first run between the Chicago and the Crescent City on the Illinois Central line. The City traveled the early 921-mile route in the daytime in those days. The Panama Limited was the overnight train. Thanks to the flat land along the way, the City could make the trip in just under sixteen hours (when everything went right). The sons of Pullman porters and the sons of engineers kept riding the magic carpet made of steel when Amtrak took over the route in 1971. By then, Chicago songwriter Steve Goodman had written his tribute to the City. The next year, Arlo Guthrie made the train and Goodman's song famous.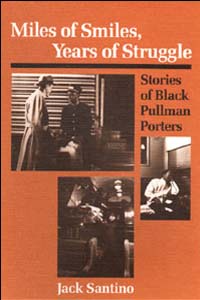 The original Pullman porters had, of course, made their legendary contribution to American railroading long before. As service workers in a luxurious sleeping-car train system, the African American porters had both the highest status in the black community and the lowest rank on the train. They were trapped in the dual roles of charming host and obedient servant, and their constant smiles—even in the face of unreasonable demands by white passengers—were part of the job requirement.
Miles of Smiles, Years of Struggle illuminates the Pullman porters' struggle for dignity. Jack Santino's interviews with retired porters provide extensive firsthand accounts of their work, the job inequities they faced, the formation of the Brotherhood of Sleeping Car Porters, and the aborted Pullman porter strike of 1928. Santino's narrative includes the testimony of ran-and-file workers as well as key figures such as E. D. Nixon, the porter who initiated the Montgomery bus boycott and helped launch the career of Martin Luther King, Jr. and C.L. Dellums, the only surviving founding member of the BSCP.