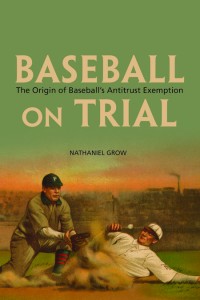 Congratulations to Nathaniel Grow.
Grow's UIP book Baseball on Trial: The Origin of Baseball's Antitrust Exemption is the winner of the David J. Langum, Sr. Prize in American Legal History/Biography for 2014.
The Prize is awarded to "the best university press book in American legal history or biography that is accessible to the educated general public, rooted in sound scholarship, and with themes that touch upon matters of general concern to the American public, past or present."
Baseball on Trial has also gained acclaim from baseball historians as well as the legal history field.  The book was a finalist for the Seymour Medal, awarded by the Society for American Baseball Research (SABR), 2015.