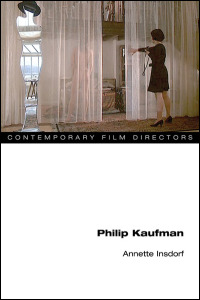 Yesterday, The Jewish Daily Forward's Arty Semite column by Michael Kaminer featured a Q&A with director Philip Kaufman.  A sample:
Michael Kaminer: There's a bright spotlight on you, 48 years after  your first film. Why now?
Philip Kaufman: You tell me. I try to resist the "overview," and to leave that to others. I just want to make films, live the life of making  films, to dream constantly of films. Thinking about the consequences — reviews,  box-office, retrospectives, etc. — wakes me from the dream, like waking from a  nightmare. Maybe a better alternative answer: Why not? Another answer: I love Annette Insdorf.
*****
Us too! Annette Insdorf is the director of undergraduate film studies at Columbia University's School of the Arts and author of Philip Kaufman, a new volume in our Contemporary Film Directors series.