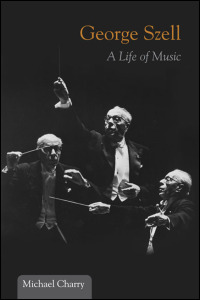 A few weeks ago when Michael Charry's new biography of George Szell was reviewed in The Wall Street Journal, The Washington Times, and Huffington Post on the same day, I checked Amazon.com every few hours to see how the book was moving up in the rankings. This didn't tell me how many books Amazon had sold (it's always less than I think), but it did indicate that the reviews made an impact on sales. The book began the morning around #157,000 and eventually climbed to the #2,000 range.
This concentrated clicking on my part obviously made an impression on Amazon's data collection and suggestion algorithms. This morning I received a message from Amazon that began:
Are you looking for something in our Biographies & Memoirs department? If so, you might be interested in these items.
The first title listed? George Szell: A Life of Music by Michael Charry.
My ultimate question: Did Amazon do that promotion for its own benefit or will that message be charged back somehow to the Press's co-op advertising account?