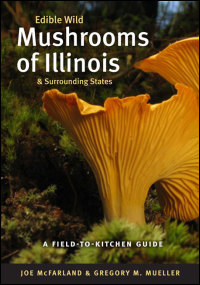 Just in time for morel season, the April 11, 2010, edition of the Chicago Sun-Times featured a Dale Bowman Outdoors piece on the University of Illinois Press book Edible Wild Mushrooms of Illinois and Surrounding States.
"[Edible Wild] Mushrooms of Illinois offers more than I ever will be able to use about the mushrooms of our area. But what really tips the book into the pantheon of outdoor greatness (and longtime readers will not be surprised by this) is Chapter 9: 'Let's Eat.'
That concluding chapter is 45 pages of preservation and recipes, including recipes from chefs such as Charlie Trotter (wild mushroom lasagna with arugula pesto) and Rick Tramonto (wild mushroom risotto with black truffles).
Good food and drink roots the brain to this earth."