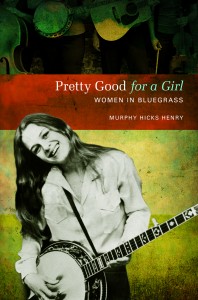 Murphy Hicks Henry is a professional banjo player and writer who founded the Women in Bluegrass newsletter and has written regularly for Bluegrass Unlimited and Banjo Newsletter. She answered our questions about her book Pretty Good for a Girl: Women in Bluegrass.
Q: You're a professional banjo player. Growing up, did you encounter those who dismissed your playing because "you're a girl."
Henry: Oh, yes! I don't think many women in bluegrass have escaped hearing the phrase, "you're pretty good for a girl." I know for me, since I was a girl, I felt like I had to play louder, harder, and better than any of the guys around me to be accepted—and respected. That was very important to me. In no way did I want to be considered a "wimpy" (read: girly) banjo player. This made me obsessive about studying the recordings of Earl Scruggs, to make sure I played it "just like Earl," so no one could fault me. Part of this came from my own competitive nature to be "the best" but part of it also came from the cultural idea that doing anything "like a girl" was not good enough.
Q: Does the bias that bluegrass is "a man's music" still exist today?
Henry: I would love to say that this bias no longer exists! But when people hear mostly male bands on the radio, when people see mostly male bands at festivals (and in ads for these festivals), when casual representations of bluegrass musicians are male musicians, and when even the Geico ad on TV features two male musicians on mandolin and guitar, what are people supposed to think?
In the March 2013 Bluegrass Unlimited National Bluegrass Survey, which tallies songs receiving the most radio airplay from reporting stations, of the top thirty songs listed, eight were by bands that included at least one woman. And eight out of thirty sounds pretty good, doesn't it? But most of these bands have only one woman in them. So, the total count of women in these seven bands (The Roys had two entries) is nine—and that includes three women in the Kathy Kallick Band! Thanks heavens for Kathy! So the question is, since women are clearly out there, why is their music not receiving more airplay?
Q: The book begins with a profile of Sally Ann Forrester. Tell us a little about her.
Henry: Sally Ann was the accordion player with Bill Monroe and the Blue Grass Boys from 1943-1946. She played on some of Monroe's earliest recordings which included "Footprints in the Snow" and "Kentucky Waltz," which are now bluegrass standards. She even took a swinging accordion solo on the instrumental "Blue Grass Special" and sang tenor to Monroe on two songs. She also sang solos when the band performed. However, because she was a women, her contributions to the music have, up until now, been ignored or dismissed. It was reported, in print, that she landed the job with Monroe as part of a "package deal" with her husband, fiddler Howdy Forrester, and it was rumored that she was "kept on" during the War as a "favor" to Howdy, who joined the Navy. Neither of these assertions is true. I was glad to be able to reclaim her life story and add it to the history of bluegrass.
I felt really lucky to get to meet Sally Ann, even if she was unaware of my presence. She was in the advanced stages of Alzheimer's in a nursing home in Nashville when her son Bob took me to see her. I'll never forget him bending down to her bed and gently saying to her, "Mama, here's your Boswell." He was referring to James Boswell who wrote the biography, The Life of Samuel Johnson.
Q: Was it hard to uncover some of the accomplishments of female players in the '40s and '50s because they were dismissed?
Henry: Yes, it was! And it was still hard to find much material on the women in the 1960s. That's why I interviewed most of the women in the book—that's the only way I could get their stories. Fortunately, most of their recordings are still available, often with excellent liner notes, and I listened to just about everything that was out there. The lives of a few of the more "famous" women—Rose Maddox, Ola Belle Campbell Reed, the Stonemans—had been documented in books and these resources were invaluable.
But the complete picture of women in bluegrass—especially in the early days— won't be complete until someone undertakes the gargantuan task of ferreting out the women who didn't record. These would be the women who played at small local shows or who appeared on local radio. These are the women who will really be hard to uncover.