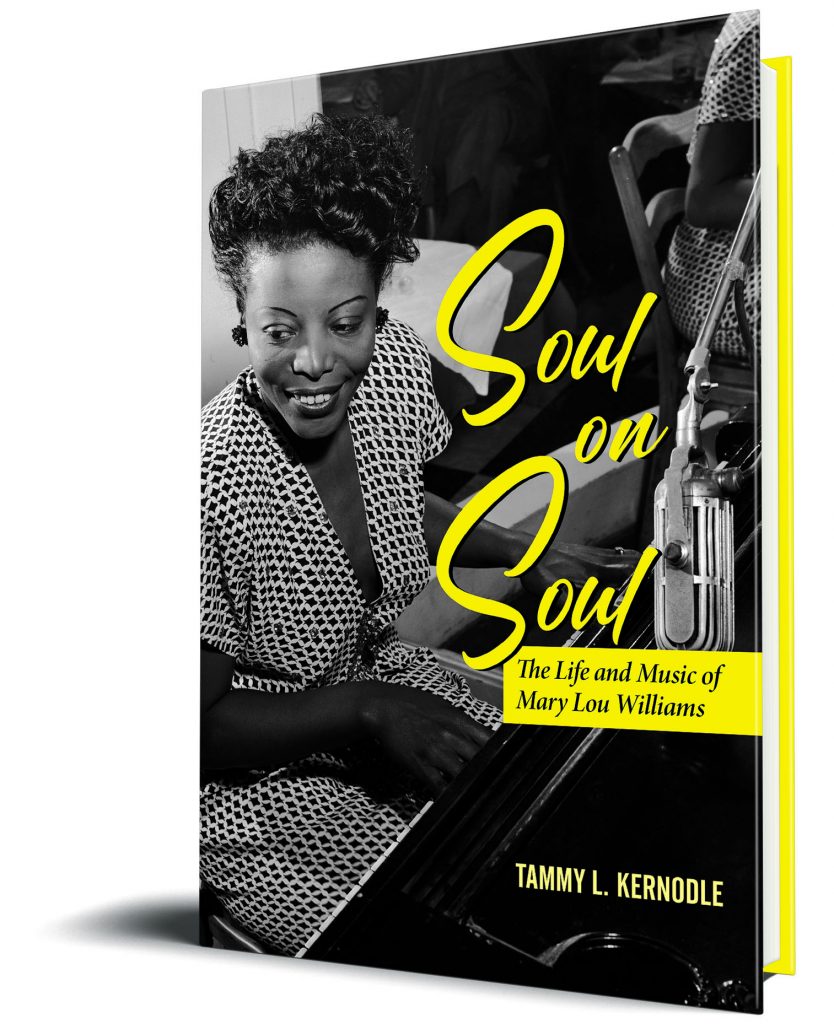 Author, Tammy L. Kernodle, of Soul on Soul: The Life and Music of Mary Lou Williams answers questions about her inspirations, discoveries, and reader takeaways.
Q: Why did you decide to write this book?
I was inspired by several things. The first was a series of conversations I had with other jazz scholars who were working in the area of reclaiming women's voices and experiences from the margins of the history. We were discussing why is it that some male musicians have multiple biographies or books written about them, but most female artists are luck if one significant book is written on them and that book tries to fully examine their life and music. Second, I wanted to see the conversation on Mary Lou Williams not follow the pathways I witnessed in relation to other black women creatives. Too often the conversations surround who they loved, how broken their lives were, issues or personal problems they had to overcome. I enjoyed Linda Dahl's biography Morning Glory, but I wanted to expand the conversation. Mary Lou Williams wrote a vast amount of influential music and was a central figure in the progression of jazz as a form of cultural and musical expression. I thought that the importance needed to be contextualized in a framework that considered what her creative energy and presence meant in the spaces she traversed. It is as much a discussion of black history, jazz history as it a biography of a highly creative woman.
Q: Who were your biggest influences?
I was influenced by the work of Toni Morrison, Eileen Southern, Judith Tick, and Sherrie Tucker. That's an eclectic mix of writers that work from different disciplines and perspectives. Morrison influenced my perspective about telling black women's stories—the good and the bad. Her work examines the spectrum of what racism and sexism inflects on the spirits and souls of black women and how they attempt to transcend this. I wanted to capture and reflect that in the telling of Williams' story. From Southern and Tick, I gleaned how important it is to do the archival research and how to be thorough in turning over every rock and documenting your sources. Anytime you challenge the normative or in this case the mythologies promoted about jazz and its history, someone is going to question you and the integrity of your work. So, I painstakingly research black and white American newspapers, every letter, ever European periodical I could gain access to. I tried to interview every living musician that played with Williams or knew her personally. I did not accomplish that goal, as some people were not cooperative. I did all of that in an effort to glean as full of a picture of who Williams was, what influenced her musical and personal choices. Sherrie Tucker's work on reclaiming the voices of women jazz instrumentalists was also a major influencer.
Q: What is the most interesting discovery you made while researching and writing your book?
Just how much Mary Lou Williams was such a tour of force! She never stopped experimenting! Everything people said she could not do, she tried to do anyway. As the book shows, she faced many obstacles, but she pushed, developed relationships with individuals that helped her see many of her creative and personal goals come to life. It's a shame she never achieved the type of popularity of a Miles Davis or a Duke Ellington, but she was just as central in progressing jazz.
Q: What myths do you hope your book will dispel or what do you hope your book will help readers unlearn?
The myth that black women are not highly intelligent creative beings. Often their talents or skills are viewed as being something "natural" or "biologically" related to their identity as a black person. It is rarely equated with a high level of intelligence or aptitude. When once reads about the creative energy of Mary Lou Williams, Lovie Austin, Melba Liston, Carlene Ray and the other black women creatives in this book, I hope they will not see these women as anomalies, but as part of their thinking about what constitutes genius.
Q: What is the most important idea you hope readers will take away from your book?
That the "Great Man" template that has been used to define jazz history will be questioned and they will listen more openly to women musicians and not let the industry tell you whose voice/music is important.
Q: What do you like to read/watch/or listen to for fun?
I love historical documentaries that are not music-based. I'm not a big movie person and there are few that I watch over and over. I'm just about to start reading "Children of Blood and Bone." I like African American literature, but I'm a bibliophile. I'm addicted to books. I'm trying to do more pleasure, "non-scholarship/teaching" type reading. I love 90's R&B and Rap, so I turn my music on and have dance parties in my living room, kitchen or bedroom, depending on how I feel. I get lost sometimes in going through my collection.