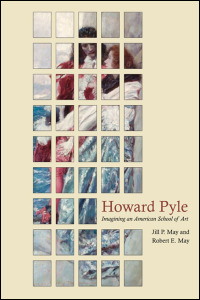 As we listen to Republican presidential candidates parry about education and consider President Obama's call for funds to rebuild our crumbling schools, keep successful teachers on the job and hire new teachers, we worry that current public discourse about U.S. schools revolves around unproven or mistaken assumptions: that, (1) ideas (or skills) can be systematically taught; (2) certain subjects (or disciplines) deserve priority over others in schools because they are more important; (3) senior teachers (as opposed to cheaper new hires) are problematic. Our own research about Drexel University, its subsequent hiring of Howard Pyle and his later establishment of a private, cooperative (and free) art program suggests something far different.
When Howard Pyle began training graphic artists at Drexel Institute in Philadelphia in 1894, he urged students to incorporate accuracy and drama within their pictures. Though employed as an instructor of graphic design, Pyle insisted that his students read current literature and study anatomy. During classes, Pyle painted beside his students, explaining his methods as he painted. He emphasized that he was training great American artists for contemporary audiences, and that his students needed to become more than mere technicians. For Pyle, painting American history authentically within dramatic scenes was essential, and he believed good teaching should inspire students rather than emphasize necessary technical skills. He fostered both collaboration and competition within his classes. Education, to Pyle, could both foster aesthetics and facilitate employment opportunities.
Anthony Drexel founded Drexel Institute so that working class men and women could gain an education; he wanted them to attend lectures and explore the world around them. So did Pyle. Both believed that success included "bookish learning." Drexel felt that all students should be allowed in classes, but in the end Pyle knew he could only teach a few students who would devote all of their time to their education. He also wanted them to understand and participate in the world around them, to think creatively about contemporary issues and consider how to influence and change the social fabric of their society. Pyle talked about his curriculum with his students and with the press, always stressing the future of American art. His students loved him, and arguably they became more famous in the end than him. Included in the women he trained were the "Red Rose Girls" Jessie Willcox Smith, Violet Oakley and Elizabeth Shippen Green. His most famous male student was N. C. Wyeth, but he also trained half of the U.S. government's official World War I combat artists. Several of his students taught art in small classes that applied many of his principles. His spurning of technical dogma in his teaching best explains his success as a mentor for the arts.
If we dismiss arguments that master teachers best create effective learning environments and that tests alone cannot evaluate the success of a student, we, in effect, endorse the canonization of education and discourage the emergence of informed students who value individual thinking. Learning to listen, question, and explore electronic information — and materials in school and public libraries — happens best when master teachers are engaged within the curriculum's design. If North America fails today's children, it is because legislators have a "one-size-fits-all" philosophy based on "test scores" and "teaching marketable skills."
*****
Jill P. May and Robert E. May are professors at Purdue University, West Lafayette, Indiana. They are co-authors of the just-published Howard Pyle: Imagining an American School of Art (University of Illinois Press, 2011).