We are pleased to announce that Rebecca Wanzo will be joining Carol Stabile as a co-editor of the Feminist Media Studies Series. Dawn Durante, Senior Acquisitions Editor at the University of Illinois Press, is the acquiring editor.
Rebecca Wanzo is an Associate Professor of Women, Gender, and Sexuality Studies at Washington University in St. Louis. As co-editor, she hopes to build on the series and diversify it in multiple ways.
"I am thrilled to be joining the series as a co-editor and build on its already impressive list. My hope is to diversify the series in multiple ways–both continuing with an expansive understanding of "feminist media" and attracting authors focusing on diverse topics, demographics, and regions."
Current series editor, Carol Stabile, welcomes Wanzo as series co-editor and is excited about the new directions she will take the series.
 "I consider myself, the Press, and the authors who are working with us and will be working with us very fortunate to benefit from Professor Wanzo's incredibly expansive and interdisciplinary knowledge of feminist theory, media studies, and literary and popular culture. She's going to lead the series in new and exciting directions!"
This series brings together cutting-edge scholarship from a range of disciplinary perspectives in feminist media studies. By "feminist," this series understands gender as being constantly in relationship with other elements of identity, including race, class, sexuality, ethnicity, religion, and ability. The series comissions and encourage original monographs and anthologies within the broad and vibrant field of feminist media studies, in areas that include media history, media criticism, new media and technology, games, production studies, comic studies, feminist science fiction, and digital and visual culture. By defining media expansively and inclusively, this series focuses on a single medium as many series have in the past, but will more effectively reflect the realities of a convergent media landscape.
If you're attending NWSA, stop by the University of Illinois Press booth in the exhibit hall for a reception celebrating the Feminist Media Studies Series and the newest book in the series Alice in Pornoland: Hardcore Encounters with the Victorian Gothic by Laura Helen Marks.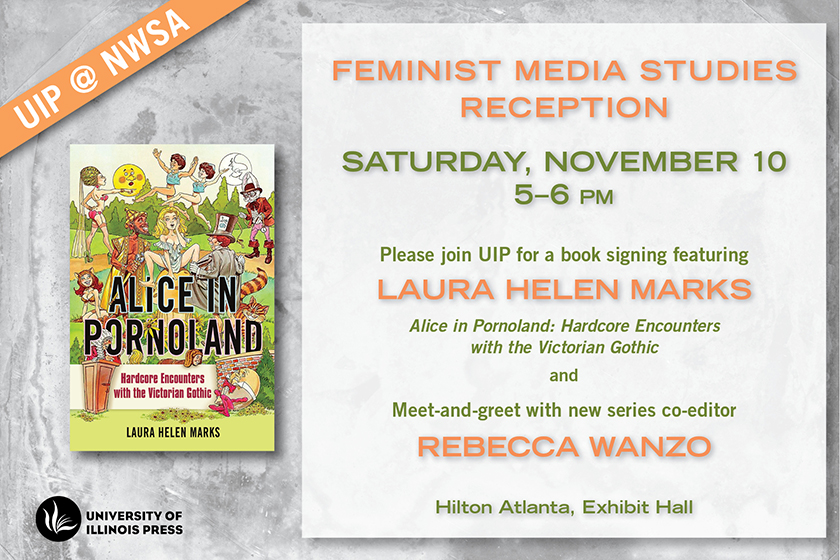 Photo credit: Joe Angeles/WUSTL Photos