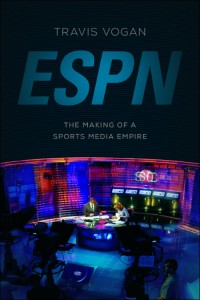 Late Friday, when all of our institutions bravely shunt their bad news out the door, ESPN announced that it would shutter its prestige site Grantland, effective immediately. Founded in 2011 by Bill Simmons, Grantland became a go-to home for longform sports journalism, delivered by an all-star cast of writers, plus various sports- and pop culture-oriented spinoffs and Simmons's own work.
Though never a money maker, Grantland brought much-needed gravitas to the Worldwide Leader's sports coverage. Travis Vogan, author of the new UIP book ESPN: The Making of a Sports Media Empire, provided an interesting inside-baseball take on the site's legacy and the limitations. In the book he expounds at length on the site's odd, often uneasy place within the ESPN machine, and what the network has lost now that Grantland is past-tense:
Simmons was not originally enthused by the prospect of titling his website Grantland—a name his ESPN superiors liked but that he thought pretentious. He was more partial to Wheelhouse or The GOAT (Greatest of All Time) and purchased the domains for both while developing the project. However, Simmons's boutique publication has transformed him into arguably the United States' most pervasive sportswriter since Rice, who published books, hosted a radio show, served as a celebrity endorser, and produced a series of one-reel sports documentaries—Grantland Rice's Sportlights. Despite Simmons's initial reluctance to name his site after Rice, there is no better historical precedent to the networked sports personality he has become.

Reflecting its editor's steady expansion and 30 for 30's metamorphosis, Grantland continues to spawn multiplatform offshoots that broaden its style and reach. These extensions, such as The Triangle, Hollywood Prospectus, and Grantland Channel, produce material designed for niches of the already specialized variety of sports fan Grantland attracts. As John Skipper puts it, Grantland helps ESPN to "get at the edges of what sport touches" and the consumers who occupy those margins. Cho likens Grantland's diversified format to New York Magazine, a general interest publication that hosts complementary websites on entertainment, fashion, local news, and food. He claims The Triangle and Hollywood Prospectus blogs are designed to be "destination pages that . . . feel like products of their own." Extending this effort, the Grantland Channel produces original programming, such as the 2014 Jonathan Hock-directed documentary series The Finish Line, in which aging NBA player Steve Nash reflects on his waning career and prospects for life after basketball. More prominently, in October 2014 ESPN's flagship channel premiered The "Grantland" Basketball Hour, an NBA-themed and Simmons-hosted talk show that marked the Grantland brand's entrance into television.

Simmons calls Grantland "a little bit of a network" with distinct but complementary parts that drive traffic independently while contributing to its hip subbrand. It is a microcosm of ESPN's multiplatform model whose subsidiaries compose sometimes seemingly unlikely pathways into the Worldwide Leader's ambit. Grantland, to be sure, productively widens sport's stereotypical meanings and audience by placing it into dialogue with and probing its relationship to film, music, fashion, and so forth. Likewise, its strategic engagements with potent signifiers—from Grantland Rice to McSweeney's—suggest mainstream sports media can provoke thought as well as entertain. But Grantland's expansion of sports media's creative possibilities simultaneously narrows the range of institutional participants in this milieu beyond the parent company that the boutique website does not always resemble, but that it unyieldingly fuels.