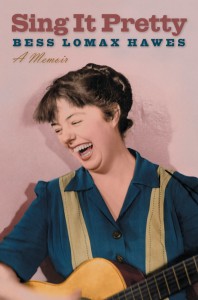 Bess Lomax Hawes, folklorist, singer, and defender of the folk arts, died last week in Portland, Oregon. We are honored to have published Hawes's 2008 memoir, Sing It Pretty, as part of our Music in American Life series. She is remembered in today's New York Times:
As the youngest child of the song collector John A. Lomax, and a sister of the folklorist and ethnomusicologist Alan Lomax, Ms. Hawes was part of the premier family of American folk scholarship. She assisted her father in his research and had a distinguished career of her own, teaching anthropology and directing the folk arts program at the National Endowment for the Arts. In the 1940s she performed alongside Pete Seeger and Woody Guthrie in the Almanac Singers, and she later taught the rudiments of folk guitar to generations of musicians.
Here, too, is a tribute from Peter Dreier in The Huffington Post that demonstrates Hawes's creative juggling of child rearing (of three very small children) and guitar teaching:
In the late 1940s, she and her husband Butch were living in the Boston area and sent their three children to a cooperative nursery school organized by graduate students at MIT and Harvard. She frequently brought her guitar to the school to perform for the students. Some of the parents, mostly the mothers, asked her to teach them how to play guitar, banjo and mandolin. Bess agreed to charge them one dollar each for each lesson, which lasted several hours, what she called "a whole evening." She would keep 50 cents for herself to pay for a babysitter and she'd donate the other 50 cents to the nursery school. Word soon spread, and others began to join her classes.