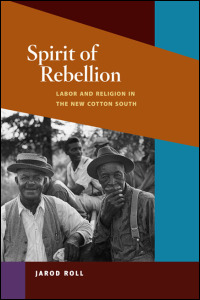 Dr. Jarod Roll received the 2011 Missouri History Book Award at a ceremony in Columbia's Tiger Hotel on November 5. Roll won the award for his book, Spirit of Rebellion: Labor and Religion in the New Cotton South. The State Historical Society of Missouri gives the Missouri History Book Award annually to the author of the best book written on the history of Missouri and Missourians in the preceding year.
In Spirit of Rebellion, Jarod Roll documents an alternative tradition of American protest by linking working-class political movements to grassroots religious revivals. He reveals how Missouri farmers used their shared traditions and faith to defend their agrarian livelihoods amid the political and economic upheaval of the first half of the twentieth century.
On the frontier of the New Cotton South in Missouri's Bootheel, the relationships between black and white farmers were complicated by racial tensions and bitter competition. Despite these divisions, workers found common ground as dissidents fighting for economic security, decent housing, and basic health, ultimately drawing on the democratic potential of evangelical religion to wage grassroots revolts against big agribusiness. Roll shows how the moral clarity and spiritual vigor these working people found in Pentecostal revivals gave them the courage to develop an expansive agenda of workers' rights by tapping into existing organizations such as the Socialist Party, the Universal Negro Improvement Association, the NAACP, and the interracial Southern Tenant Farmers' Union.
The Missouri History Book Award is decided by a panel of judges selected by the executive director of the State Historical Society of Missouri. This is the third award that Roll was won for Spirit of Rebellion. He is also the author, with Erik S. Gellman, of The Gospel of the Working Class: Labor's Southern Prophets in New Deal America, which was published this year by the University of Illinois Press.