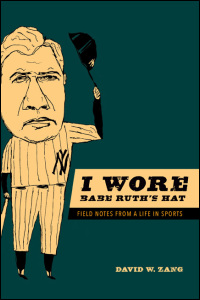 Today we celebrate the release of David W. Zang's poignant and hilarious sports memoir I Wore Babe Ruth's Hat: Field Notes from a Life in Sports.
Long celebrated as one of sports history's most engaging stylists, Zang reports from the everyman's Elysium where games and life intersect. An Elysium where, not surprisingly, the sacred relics of Babe Ruth hold great supernatural power:
Sportswriter Heywood Hale Broun once remarked that watching Babe Ruth gave you the sense of being in the presence of greatness, and, if you're in the presence of greatness, "then some tiny fleck of it is attached to you." By that reckoning, I was able to acquire much more than a fleck of Ruth. When I first moved to Baltimore, I was invited to be on the advisory board of the Babe Ruth Birthplace Museum, at that time a collection of artifacts housed in the tiny row house where he'd been born.
Seeking to expand and modernize, the museum decided to produce an advertising poster that highlighted some of its holdings. They'd arranged all of them on a table in the museum's basement, where they awaited a photographer. Happening to be in the building one day, I wandered downstairs in search of one of the curators. Perusing the artifacts, I noticed that hanging from a hat rack behind the table was a hat Ruth wore as a member of the Boston Red Sox. I could not resist. I put that enormous hat on my head and was looking for a mirror when the museum director came down the stairs. He shot me a withering glare, and I quickly put the hat back. It did not seem the appropriate moment to ask him if he'd take my picture in it.
The hat's magic, however, was already in me. I never hit a home run in all my years of youth baseball; I just had no power. But I've taken up one of the Babe's favorite pastimes, golf, in my advanced years, and I can hit a golf ball a long way. My instructor would like me to believe that it comes from my ability to turn my hips beyond the point that most players my age can reach. But I think it is from the flecks of greatness that were attached to Babe Ruth's hat.