New Year's Eve is a time of celebration for most. It's a time to look forward to better things and a time to reflect on the year that will soon be behind us.
When it comes the American Civil War, our nation has been in a bit of a reflective mood for the last few years. As 2015 marked the 150th anniversary of the end of the Civil War, the battles–both military and political–have been recounted; the long shadow of slavery has been assessed and reassessed; and the measure has been taken of the President whose death preceded the official end of conflict my mere weeks.
As we turn the page from 2015 to 2016, consider one pivotal moment in American history that rests on the cusp of another calendar change.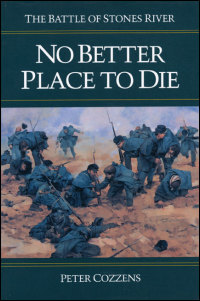 It was New Year's Eve, December 31, 1862, that Union and Confederate armies met on the banks of the central Tennessee river.
It had been a disheartening year up until that point for the Union. The Union armies had suffered a terrible defeat at Fredricksburg, Virginia earlier in the month. The Emancipation Proclamation was due to go into effect on January 1, 1862, yet the military had little to show in terms of liberating ground and supporting the order.
In his book No Better Place to Die, Peter Cozzens examines the impact and events of the bloody Battle of Stones River.
Over twenty thousand Union and Confederate soldiers were killed, wounded, or captured on this New Year's Eve clash. But, as Cozzens illustrates, he impact of the battle extended far beyond the thousands of shattered human lives. The author suggests this pivotal day had the effect of ultimately imperiling the fortunes of the Confederacy.