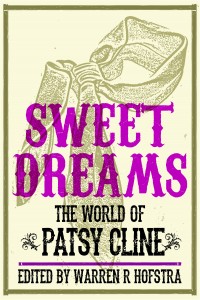 George Hamilton IV departed the world two years ago today. Unrelated to the actor and tanning phenomenon of the same name, IV, as he was sometimes called, ambled out of North Carolina in his college years to become a teen idol sensation. Later, he went into country music, filling the Sixties charts with hits and, like all of us at the time, turning to folk music for a while. Rather than mosey into retirement when the hits dried up, Hamilton toured the world representing country and western, with noteworthy trips beyond the Iron Curtain to undermine the Hank Williams-less scourge of communism.
Hamilton met up early on with Patsy Cline, subject of the UIP book Sweet Dreams, and the two became big sister-little brother, with Hamilton usually on the short end of that playful relationship. As he recounts in Sweet Dreams:
She walked up to me and said something like, "I'm Patsy Cline. Who are you?" When I said, "George Hamilton IV," her response (with a hearty laugh) was "the Fourth? What kind of country singer are you?" When I assured her I was a country singer, she replied, "Where are your cowboy boots?" I said, "I ain't got none—I'm from North Carolina!" Patsy stood there, grinnin' from ear to ear, and said, "Who do you think you are, Hoss?—the Pat Boone of country music?" (She used to call me "Mr. Goody 2 Shoes," as well.)
As for Cline onstage and off:
Connie B. Gay, former manager of Patsy Cline and the founding president of the Country Music Association, once referred to Patsy as "the greatest female singer ever to walk the face of the Earth!" (He didn't say "country singer," by the way.) Connie B. Gay was quite possibly right. There are many of us who would certainly not argue the point! Patsy was "a woman ahead of her time"—a "pre-feminist" woman who made a place for female singers—front and center—in what was very much a man's world in her day. She didn't "open the doors" for women in country music; she "kicked them down"! She paved the way and made it much easier for Loretta, Tammy, Dolly, Reba, and all who followed her.

In her day, the girl singers were mostly "window dressing" on shows with the male country stars. Patsy would have none of that. She was determined to play a starring role on the shows she was on, and she did! Many of us "guys" had to get used to being an "opening act" for Patsy in those days! And we felt privileged to be so!

I want to make clear, as one who was "there" in the fifties and the early sixties—Patsy and I joined the Grand Ole Opry the same year, and I toured with her just before her untimely death. In my memory, Patsy Cline was a Lady. She was strong—not "tough," but she had a big heart—a kind heart—she teased me, but she mentored and encouraged me. She lent her stage costumes and even her wigs to other struggling "Girl Singers" like Dottie West and June Carter. She was never "petty or small" in her relations with her peers and competitors.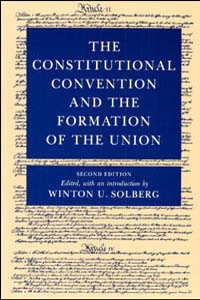 On this date in 1787, delegates to the Constitutional Convention gathered one last time in Philadelphia. There, with wigs powdered and legs forced into tight britches, these Founders contemplated the signing of a draft of the United States Constitution. In his classroom classic The Constitutional Convention and the Formation of the Union, editor Winton U. Solberg quarterbacks the presentation of all the documents you need to understand that grand day, and the contentious summer of debate that preceded it.
Here is the grand drama that produced the law of the land: twelve states governed under the rickety Articles of Confederation trying to put their differences aside; ideas from James Madison's Virginia Plan to the infamous Three-Fifths Compromise; biographical portraits of all the participants; and Solberg's own placing of the origins of the Constitution in the broader historical perspective of the development of political theory and constitutional practice in Western civilization.
Not many people showed up on September 17 happy with the final version. Benjamin Franklin said: "I confess that There are several parts of this Constitution which I do not at present approve, but I am not sure I shall never approve them." But expediency ruled the day. George Washington signed first. The delegates in favor followed. As Franklin hinted, the group agreed to a document somewhat less than perfect. There's a reason we've amended the thing twenty-seven times. Solberg's volume provides a handy historical Playbill to that drama begun in Philadelphia—and still playing out today.