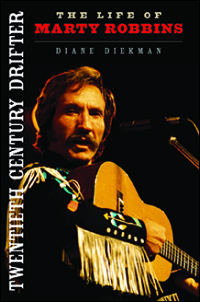 Diane Diekman's book, Twentieth Century Drifter: The Life of Marty Robbins, will receive the Belmont Country Music Book of the Year Award given by the Mike Curb Entertainment and Music Business Program at Belmont University. The award ceremony will take place during the Friday, May 24th International Country Music Conference (ICMC) luncheon.
Drawing from personal interviews and in-depth research, biographer Diekman explains how Robbins saw himself as a drifter, a man always searching for self-fulfillment and inner peace. Twentieth Century Drifter is the first biography of this legendary country music artist and NASCAR driver.
Congratulations, Diane!