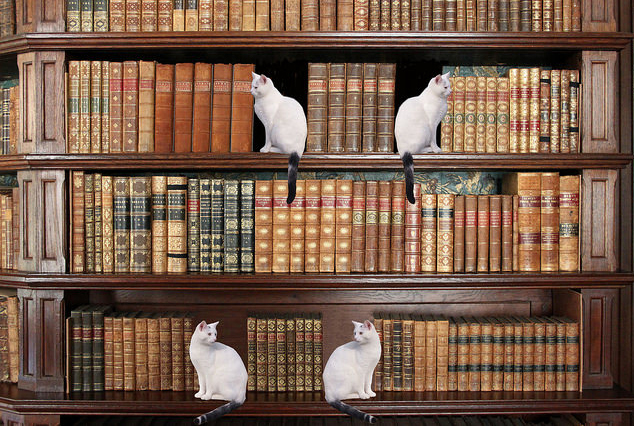 One of the wonderful things about independent bookstores is the opportunity for discovery.
Is there a better feeling than walking among rows of texts and spying that one spine that calls out to be read? Whatever might pique interest—from an evocative title to a compelling subject—the story begins with the search for some new knowledge to consume.
Browsing through the shelves is the best way to indulge a curiosity about the world. So it only makes sense that in a haven for the curious you might find a cat.  Or two.
Felines have been known to roam many a bookstore. They're perched on the top of bookshelves, curled up on the counter (not to be bothered by patrons, employees, proprietors, or even the fire marshal), or roaming the stacks.
You've seen their furry faces (No, not the knowledgeable people helping you find the perfect tome; its the cats we are still talking about here); you have stepped gingerly over their darting tails.  You may have even wondered "why are they here?"
In celebration of the bookstore cat we're rewarding those who captured these felines in action, or inaction, via their favorite digital recording device.
Just as they hold their imperious court over bookstores, cats rule the internet. And on their domain we are hosting a contest via the Facebook page for Fe-Lines: Cat Poetry through the Ages.
Go to https://www.facebook.com/FeLinesPoetry and give the page a Like.
We're welcoming book store owners and patrons to post photos of their favorite cats living the shelf life.  Each week we'll pick a favorite cat photographer to win a copy of Fe-Lines.