The Organization of American Historians Annual Meeting in Providence, Rhode Island, April 7-10, 2016 was a great opportunity for editors and staff from the Press to congregate with people in the field of history (and perhaps check into future acquisitions in that field), and the conference also served as an occasion to honor a number of authors whose books have recently been published.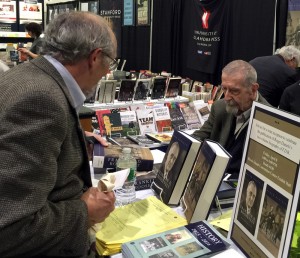 The UIP hosted a reception and book signing in honor of Roger Daniels, author of the epic two-volume biography, Franklin D. Roosevelt: Road to the New Deal, 1882-1939 and Franklin D. Roosevelt: The War Years, 1939-1945. The author signed copies of both volumes of the book, the second of which has an official release date of April 18.
As we previously announced, Struggle for the Soul of the Postwar South: White Evangelical Protestants and Operation Dixie by Elizabeth Fones-Wolf and Ken Fones-Wolf won the David Montgomery Award or the best book on a topic in American labor and working-class history.
The Fones-Wolfs faced some tough competition for the award. Smokestacks in the Hills: Rural-Industrial Workers in West Virginia by Lou Martin won an Honorable Mention for the David Montgomery Award.