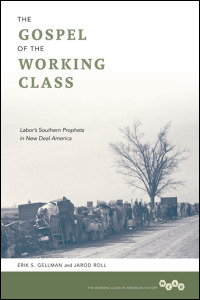 Religion in American History has published a three part interview with Erik Gellman and Jarod Roll, authors of the new book The Gospel of the Working Class: Labor's Southern Prophets in New Deal America.
Q: You discuss in one footnote how historians of the New Deal era have "focused on the conservative or reactionary religious thought of preachers like Father Charles Coughlin or Reverend Gerald L. K. Smith." In what ways and to what extent does the recovery of your cast of characters – the Owen Whitfields and Claude Williams of the world — revise our stories about this period?
Erik Gellman: The focus on the religious right during the 1930s and 1940s has given the false impression that people during this era who prioritized religion embraced reactionary politics and fascist ideas. Uncovering this cast of progressive characters who fought for the poor and for civil rights shows how faith did not just represent a distraction or diversion from the path of New Deal liberalism or the struggles of Popular Front activists to expand America's democratic promise. Interestingly, however, the path blazed by Whitfield, Williams and their colleagues also provides a challenging critique to many of the false assumptions New Deal liberals had in terms of class, race, and gender. For example, when Williams dealt with the so-called migrant problem of white and black southerners to Detroit during the World War II era, he analyzed it from a very different angle; Williams saw these migrants much less as the problem than the solution because he believed they had more potential to embrace a radical social gospel than their liberal counterparts who sought primarily to quell riots and preserve the racial status quo.