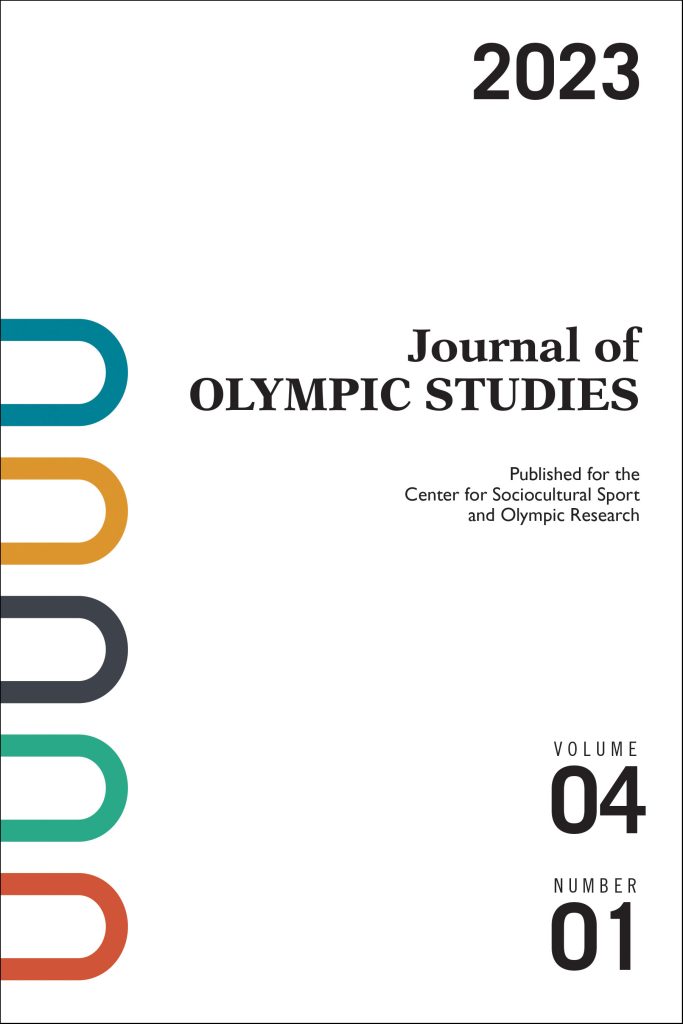 Edited by Matthew P. Llewellyn, the Journal of Olympic Studies (JOS) is the official publication of the Center for Sociocultural Sport and Olympic Research Conference, and aspires to be the preeminent international multidisciplinary, peer-reviewed scholarly journal in the field of Olympic research. The Journal publishes high quality academic work on the Olympic and Paralympic Movements, in all of its forms, from scholars in the fields of history, philosophy, management, communication, classics, literature, anthropology, cultural studies, economics, marketing, and law. 
Recommended Reading 
In his article "The Esports Question for the Olympic," Andy Miah discusses the relationship between the esports industry and the Olympic Movement. From an informal esports tournament that took place in Rio 2016 to the many references of Japanese contributions to gaming in the Tokyo Organizing Committee of the Olympic and Paralympic Games' brief, Miah uses the metaphor of "family" to explain the complexity of the relationship. 
This article will be freely available to read from August 1 through October 31.
"An Olympian on Display: Museums and the Commemoration of Jesse Owens" by Andrew D. Linden and Lindsay Parks Pieper compares and analyzes representation of Jesse Owens on display in Le Musée Olympique in Switzerland and the National Museum of African American History and Culture in the United States. Examining the museums' inclusions and exemptions, the authors demonstrate the purposeful narrative building around historical figures and the "constraints of cultural memory in museums." 
This article will be freely available to read from November 1 through January 31.
Neftalie Williams addresses a gap in current scholarship on the racial politics of the Olympics in his article "Before the Gold: Connecting Aspirations, Activism, and BIPOC Excellence Through Olympic Skateboarding." Few scholars have addressed issues of race in action sports like skateboarding and those who have see skateboarding as a space of whiteness. Informed by the activism of critical race theory, Williams interviews skaters of color and provides their firsthand account, clarifying how elite skaters of color contest racism while navigating "otherness" as spokespeople for skateboarding, their families, and U.S. communities of color.  
This article will be freely available to read from February 1 through April 30
"Viva Mexico! The Cultural Politics Behind the 1968 Mexico City Olympic Bid" by Edgar Jesus Campos and Douglas Hartmann is a case study of the vision of Mexican history, identity, and culture that won the 1968 Summer Olympic Games for Mexico City. Guided by symbolic interactionism and theories of cultural politics, the study highlights the unique status of Mexico and Latin America in the Olympic Movement, reminds us of the role of the International Olympic Committee in constructing global order in the Cold War era, and shows the value of studying alternative and unsuccessful visions of nationalism, modernity, and global cosmopolitanism. 
This article will be freely available to read from May 1 through July 31.
Recommended Listening 
Check out some episodes of the University of Illinois Press podcast, The UPside, featuring Journal of Olympic Studies contributors:
Find Out More