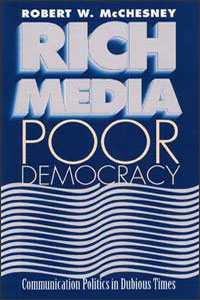 Yesterday's Inside Higher Ed update contained links to several posts that mentioned the Librarian of Congress's release of 3-year exemptions to the Digital Millennium Copyright Act on Monday. As a result of the exemption request process, professors and film and media students (and the librarians who assist them) will now have a legal right to circumvent technological protections on movies in order to make clips available for lecture and class projects without penalty or fee.
Anyone interested in copyright issues in the classroom and in scholarly publishing would be wise to tune in to WILL-AM for Bob McChesney's "Media Matters" show this coming Sunday, August 1, at 1 p.m. CST, when Lawrence Lessig will be his guest. Lessig always has interesting things to say about copyright laws and how they can impede creativity and scholarship.
You can also subscribe to the show's podcast via the WILL site, catch it streaming live online, and follow the show via Facebook for more information.
Bob McChesney is a co-editor of the Press's History of Communication series and author of Rich Media, Poor Democracy.