Mary Sue Welsh is a former executive director of the Bach Festival of Philadelphia, where she worked with its chair Edna Phillips.  She answered our questions about her new University of Illinois Press book One Woman in a Hundred: Edna Phillips and the Philadelphia Orchestra.
Q: Who was Edna Phillips?  
Welsh: By joining the Philadelphia Orchestra in 1930 as its principal harpist, Edna Phillips became not only that orchestra's first female member, but also the first woman to hold a principal position in any major symphony orchestra in America.
Q: Was her addition to the orchestra controversial?         
Welsh: In 1930 it was almost unheard of for a "regular" (meaning all-male) orchestra to hire a woman, even at the local or regional level. For an orchestra as prestigious as the Philadelphia to hire one and put her in a principal position was definitely controversial. It had never been done at that level.
During the first half of the twentieth century a majority of male musicians and their audiences believed that women were incapable of holding their own in professional orchestras because they lacked the stamina, power, and reliability to do so. That (plus the strong likelihood that male musicians didn't want their jobs jeopardized by competition from women) meant that most female instrumentalists in the 1920s and '30s never had the opportunity to play in a professional orchestra. The only way they could do so was to join one of the all-female professional orchestras that had come into existence at that time.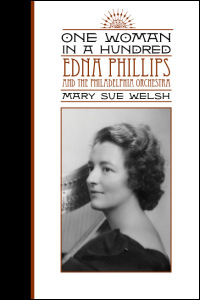 Q: Did she experience sexism from within the orchestra?
Welsh: When Phillips first arrived at the orchestra, she experienced hostility from some of the men who made it obvious that they regarded her as an unworthy intruder and who resented her taking the place of a well-liked male colleague who had been with the orchestra for seventeen years. Even Stokowski, who had hired her, poked fun at her as "a foolish virgin" during one rehearsal, but his attempted joke didn't work. She subtly called his bluff by maintaining her composure instead of reacting with dismay and embarrassment as he had expected her to do.
Q: How was the Philadelphia Orchestra regarded at the time?
Welsh: In 1929, Sergei Rachmaninoff called the Philadelphia Orchestra "the finest orchestra the world has ever heard." Whether that was absolutely the case, the Philadelphia Orchestra was held in extremely high regard throughout the musical world. It
was considered a major orchestra, a category that at that time included the Boston Symphony, the New York Philharmonic, the Chicago Symphony, and the Philadelphia.
Q: The book presents the many challenges orchestra members faced working with Conductor Leopold Stokowski. What one stands out most?
Welsh: Probably his intensity and a certain amount of relentlessness. He imposed the highest standards on his players and expected them to be able to respond instantly to his direction, often jumping through different parts of a score in rehearsal and expecting his musicians to immediately find the correct spot many measures ahead and begin playing without pause. He would work relentlessly to mold certain sections of a work in rehearsal and leave other more routine sections for the players to master on their own, forcing them to pay extraordinary attention to him in concert to make sure that the piece unfolded as the maestro wanted it to.
Q: Was there something about Phillips's personality that helped her thrive as "one woman in a hundred?"
Welsh: Phillips was very savvy. She seemed to know instinctively how to take care of herself. In 1927 she played for a brief spell in the Roxy Theatre Orchestra in Manhattan, joining her teacher at the time, Florence Wightman, as the only women in an orchestra made up of 110 men. It was a terrible experience. Forced to dodge aggressive passes from her colleagues, she fled after six weeks, vowing never again to play in an all-male orchestra.
Eventually her teacher at the Curtis Institute of Music, the brilliant and wily
Carlos Salzedo, talked her into auditioning for the Philadelphia Orchestra by assuring her that there would be no "Roxy Romeos" there. When she did join, Phillips devised a plan for deflecting possible passes that worked well with the men of the orchestra, but not so well with Maestros Stokowski and later Ormandy, both of whom made overtures toward her that could not be deflected so easily. What can a female member of such an organization do when the leader of that organization makes a pass at her – say no and possibly get fired or say yes and eventually be "thrown away like an old shoe?" It was a conundrum that Phillips handled with wit and much aplomb.
Q: What contributions did Phillips make to the performance of the harp?
Welsh: In order to expand its repertoire, Phillips and her husband, Samuel R.  Rosenbaum, commissioned fifteen works for the harp, including what is today considered to be a masterpiece for the instrument, Concerto for Harp and Orchestra op. 25 by Alberto Ginastera, as well as significant works by Nicolai Berezowsky, Norman Dello Joio, Erno Dohnanyi, Peggy Glanville-Hicks, Ernst Krenek, Harl McDonald, José Serebrier, and Paul White, among others.
Q: What was the most interesting thing that you learned while researching the book?
Welsh: How fascinating the behind-the-scenes life of the Philadelphia Orchestra was during the 1930s and '40s when seen through the eyes of an astute observer who relished the humorous incidents that occurred as well as the greatness that surrounded her.
*****
Author photo credit: Susan Beard Photography