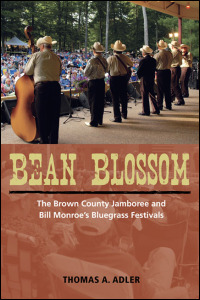 The 46th Annual Bill Monroe Bean Blossom Bluegrass Festival begins June 9 and runs through June 16.  We spoke with Thomas A. Adler, author of the recent book Bean Blossom: The Brown County Jamboree and Bill Monroe's Bluegrass Festivals, about changes in the festival since 1967, and his favorite Bean Blossom performances.
Q:  What is the location of the Bean Blossom festival?
Adler:  "The festival"  — meaning, to bluegrass music fans, the big June "Father's Day" bluegrass festival, now formally called the Bill Monroe Memorial Bean Blossom Bluegrass Festival — is the oldest and best-known of several multiday music festivals held annually on the 55-acre site of the historic Brown County Jamboree Park. The music park is just a few hundred yards north of the crossroads center of Bean Blossom, Indiana. Most of the many music festivals held on the site comprise two or three weekend days, but "the festival" now typically lasts eight days, spanning two weekends and the intervening weekdays.
Bean Blossom itself is a tiny town on State Highway 135, about 35 miles south of Indianapolis, with a dispersed population of about 2500 people, as of the 2000 census.
In a self-deprecating reference to the small size of the place, the town's only grocery store, run by the McDonald family since the 19th century, sells t-shirts celebrating "Beautiful Downtown Bean Blossom."
The little hamlet was founded in the late 19th century as "Georgetown" and later renamed for nearby Bean Blossom Creek.  More importantly, Bean Blossom is in Brown County, Indiana, a longstanding tourist destination which at the beginning of the 20th century became famous for its beautiful forested hills, for the impressionist "Hoosier school" art
colony, and for the huge and lovely Brown County State Park.  Perhaps most importantly, Brown County lies on the broad and fuzzy boundary line where cultural geographers might say "the North" and "the South" meet.
Q:  Bill Monroe founded the festival in 1967 and you first attended in
1968.  What attracted you to the event?
Adler:  That's a long story!  I grew up on the South side of Chicago, and was a young convert to bluegrass music, and a would-be banjo player, by about 1958 or 1959.   But live bluegrass musicians and performances were very scarce in the Chicago area at that time. Still, awareness of the music was growing steadily throughout the early 1960s, abetted generally by the increased availability of LP recordings, the national "folksong revival," the advent of mass-media exposure with CBS television's "The Beverly Hillbillies," and more. There were some key centers of local awareness of bluegrass, notably a musical instrument store called "The Fret Shop," on the south side near the University of Chicago, and later, the Old Town School of Folk Music on Chicago's near-North side.  Through the early and mid-1960s, which corresponded with my high-school and early college years, I increasingly encountered and entered into networks of serious amateur bluegrass musicians and fans, who kept each other informed about the rare regional concerts and events where one might find "real" professional and semi-professional bluegrass artists and groups. Through such social networking I learned about the first real multi-day, multi-act bluegrass festivals that began in Virginia in 1965, though I could not attend. Then in 1967 and 1968 a number of Chicago-based picking friends went to Bean Blossom — just a four-hour drive away — to take in Monroe's own bluegrass festivals. Their stories, and coverage in the national bluegrass music "fanzine" Bluegrass Unlimited, founded in 1967, made me really want to get to Bean Blossom myself for the big June festival.
But I first got to the site in the fall of 1968 at the invitation of Neil V. Rosenberg — the principal scholar of bluegrass music and eventual author of Bluegrass: A History (Champaign: University of Illinois Press, 1985).  My first visit to the park actually came several months after that summer's bluegrass festival, Monroe's 2nd annual.  Neil and I and a few other folklorists who went to Bean Blossom were all attending the American Folklore Society's annual meeting in nearby Bloomington, Indiana, and Neil brought a carload of us to a Sunday-afternoon show of the Brown County Jamboree, which was then still being held weekly in Bill Monroe's "old barn" on the grounds, just as it had been
since the early 1940s, years before Monroe's purchase of the old rural country music park.  I was thrilled by the music and fascinated by the cultural scene of the music park and the rustic ambience of the old barn.  Once I had been there in person, my return seemed inevitable; and in June of 1969 I rode down from Chicago in a car with fellow-banjoist Rick Riman and a few others, and that was the start of my long series of treks to Bean Blossom.
Q:  How many years have you attended Bean Blossom?  
Adler:  I haven't kept an exact count, but I returned in June every year until 1980 or so,
sometimes also attending Monroe's autumn bluegrass festival as well.  Then, after moving to Kentucky, I did miss a few years, but I probably resumed my annual trips to the bluegrass "Mecca" around 1988 or thereabouts, and have hardly missed a June festival since then . . .  So I'd guess my total is now about 35 or more years.  The June, 2012 bluegrass festival is the 46th annual!
Q:  How has the festival changed since its inception?  
Adler:  Both the festival and its music-park site have changed enormously, evolving constantly through the 45 years of Bill Monroe's ownership of the venerable music park. The festival and site changed even more after Monroe's death in 1996 and through several years of his son James's stewardship, and then underwent further physical transformations and revitalizations after the park was bought in 1998 by Dwight
Dillman, a former Blue Grass Boy who wanted to keep the festival traditions going.
The festival's fan base grew tremendously in the early 1970s, and soon included pickers from England, Japan, New Zealand, Canada, and several more European nations.  The fans who returned yearly felt a keen sense of loss in 1982, when Bill's brother Birch Monroe (who had overseen the three-season Brown County Jamboree Sunday shows for thirty years) died; and of course, the sense of loss was even greater after Bill's own death. But even before Monroe's passing, the old Brown County Jamboree Barn, built by the park's first operators during World War II, had been razed in 1986, and the "old" outdoor stage built by Monroe and his Blue Grass Boys in 1968 for the 2nd June festival was replaced with the much-larger present stage in 1992. That same year Bill moved his own Museum and Bluegrass Hall of Fame from Nashville, Tennessee to Bean Blossom, constructing a new building to house it.  That year Bill also brought the few remaining logs from the Rosine, Kentucky cabin where he had lived in the 1920s with his greatest musical influencer, his fiddling maternal uncle, Pendleton Vandiver, and then re-erected "Uncle Pen's Cabin" next to the museum. In the Dillman era, the campground parts of the park were vastly improved with RV park facilities, better restrooms, and new signage throughout the park that both defined the roads and camping areas and commemorated local, regional, and national icons of the music.
Despite numerous physical changes to the park, and the loss of key figures like Bill
and Birch, the original spirit of the June festival endures: fans arrive, set up their tents or park their RVs, and visit with old friends who have become part of a recurrent "superfamily" of Bean Blossom fans and pickers.  Jam sessions break out all through the campgrounds and parking-lots, and — fickle summertime Indiana weather permitting — go on through all hours of the day and night for the festival's duration.   And each June festival now features many more professional artists and groups than in the early years.
Q:  Is there a generally recognized classic year or run of years that
featured a particularly strong lineup of artists?
Adler:  Everyone probably has his own favorite "classic years" of the June bluegrass festival. For me, 1971 was a key year, for by the time of the 5th festival, Bill Monroe and his brother Birch (who ran the weekly Sunday shows of the Brown County Jamboree) had put together all the key elements of Monroe's festival, including the Friday evening "Sunset Jam" session and square-dance, the band and banjo contests, and "Barbecue Bean Day," when a free lunch prepared by fiddler Tex Logan would be offered gratis to the appreciative crowd. That year also saw the first real international bluegrass performers, including the Bluegrass 45 from Japan and the Hamilton County Bluegrass Band from New Zealand.  Moreover, in 1971 some truly influential early "newgrass" groups like the Bluegrass Alliance appeared to great acclaim, particularly from a new, younger generation of festival attendees.
Q:  Have any well-known artists been discovered at Bean Blossom or used the festival as a launching point for their careers?
Adler:  Many artists or groups that Bill Monroe "discovered" on his own travels throughout the country were invited by him to play at Bean Blossom.  For a lot of those who were already widely known in their own home region, a gig at Monroe's June festival would help confirm in their own minds and those of their fans that they were significant on the national bluegrass music scene; this was certainly the case for west-coast groups like Country Gazette, or the Canadian band, the Dixie Flyers.  Others, notably the bluegrass-gospel singing Sullivan Family, were really known only in their own home region of Alabama until Monroe took a liking to them and repeatedly hosted them at Bean Blossom.
Q:  Bob Dylan was criticized for "going electric" at the 1965 Newport Folk Festival.  Have there been any similar controversies at Bean Blossom?
Adler:  Monroe's June festival was known throughout his life as a bastion of "traditional" bluegrass music, although instrumental exceptions were overlooked by Monroe and his festival managers in the case of major professional artists like Jimmy Martin, who appeared with an onstage drummer; or Jim & Jesse & the Virginia Boys, or the Osborne Brothers, or the Earl Scruggs Revue, all of whom on occasion used electric basses and other "plugged-in" instruments.   While Bill permitted these shows to go on without any comment, such departures from perceived tradition were sometimes met with grumbling by the fans in the audience; and for amateur musicians competing in the festivals' annual
Bluegrass Band contest, electric instruments and  "non-bluegrass" instrumentation were pretty strictly prohibited.
Q:  Do you remember a favorite Bean Blossom performance?
Adler:  Not just one!  For me personally, it was always most gratifying and exciting to see Bill Monroe himself in performance.  In part this was my own personal reaction to his
uniquely powerful presence as a bandleader, and because of his broad and deep repertoire of songs ranging from truly traditional folksongs to his own latest compositions, in which he'd present surprising innovations based on his appreciation of what he called the "ancient tones."   His sets were also very exciting to me because of the fabulous performance abilities of his nominal "sidemen," such as the great fiddler Kenny Baker, who always played his instrument with graceful taste, whether the moment demanded a fiery lead or a perfect supporting line of "fills" behind vocals by Monroe and his lead singer.   In the early 1970s I was much taken with the exploratory banjo picking of Jack
Hicks, who blended the "new" melodic and chromatic techniques with his own solid base of Scruggs-style three-finger playing in ways that I then found very exciting.   I remember many other shining moments from great shows at Bean Blossom, including the Bluegrass Alliance's powerful sets in 1971, Lester Flatt's "reunion" show with Bill that same year, and Emmylou Harris's late-Saturday night show, with Monroe accompanying her, in 1990.  But some of the most gratifying times, for me, might come at any time, simply from yelling out a song request to Monroe for an old favorite like "John Henry, the Steel-Driving Man," and having him pick that out from among dozens of requests shouted out at the same moment, and then launch into a thrilling vocal & instrumental tour de force. That sort of moment never got old, for me.