This black history month, UIP is joining the #ReadingBlackout challenge and we want you to too! The Reading Blackout challenge was created by YouTuber Denise D. Cooper and it's a call to prioritize reading books by African American authors during 2018. To celebrate the #ReadingBlackout challenge we'll be releasing reading lists all month long and adding the books to our Little Free Library at the Illini Union! This list is just a teaser for the black history books we're adding to our Little Free Library this week, so make sure to stop by and check out the rest! You can check out past lists here.
Here are 6 more books to add to your #ReadingBlackout list: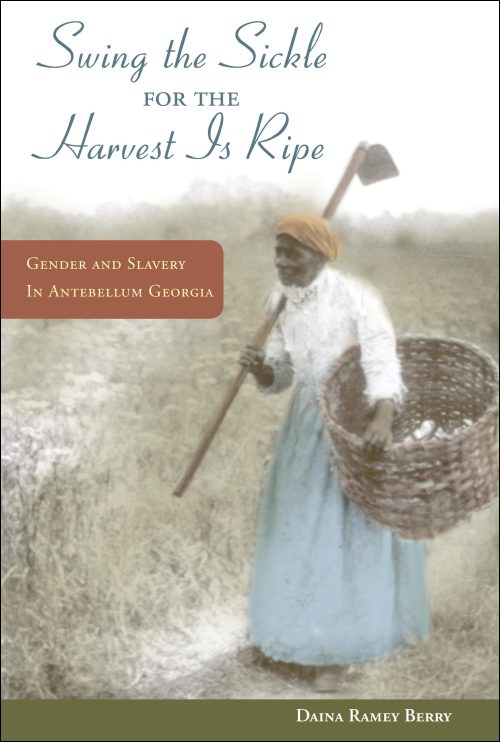 Compares the work, family, and economic experiences of enslaved women and men in upcountry and lowcountry Georgia during the nineteenth century. Mining planters' daybooks, plantation records, and a wealth of other sources, Daina Ramey Berry shows how slaves' experiences on large plantations, which were essentially self-contained, closed communities, contrasted with those on small plantations, where planters' interests in sharing their workforces allowed slaves more open, fluid communications.
Most times left solely within the confines of plantation narratives, slavery was far from a land-based phenomenon. Sowande' Mustakeem reveals for the first time how slavery took critical shape at sea. Slavery at Sea centers how the oceanic transport of human cargoes–infamously known as the Middle Passage–comprised a violently regulated process foundational to the institution of bondage.
The youngest of twenty children of sharecroppers in rural Mississippi, Fannie Lou Hamer witnessed throughout her childhood the white cruelty, political exclusion, and relentless economic exploitation that defined black existence in the Delta. In this intimate biography, Chana Kai Lee documents Hamer's lifelong crusade to empower the poor through collective action, her rise to national prominence as a civil rights activist, and the personal costs of her ongoing struggle to win a political voice and economic self-sufficiency for blacks in the segregated South.
A leading African American intellectual of the early twentieth century, Eugene Kinckle Jones (1885–1954) was instrumental in professionalizing black social work in America. In his role as executive secretary of the National Urban League, Jones worked closely with social reformers who advocated on behalf of African Americans and against racial discrimination in the United States. Felix L. Armstrong examines the growth of African American communities and the roles of social workers concerned with the acculturative processes, social change, and racial uplift.
In 1968, The Revolt of the Black Athlete hit sport and society like an Ali combination. This Fiftieth Anniversary edition of Harry Edwards's classic of activist scholarship offers a new introduction and afterword that revisits the revolts by athletes like Muhammad Ali, Kareem Abdul-Jabbar, Tommie Smith, and John Carlos. At the same time, Edwards engages with the struggles of a present still rife with racism, double standards, and economic injustice. Again relating the rebellion of black athletes to a larger spirit of revolt among black citizens, Edwards moves his story forward to our era of protests, boycotts, and the dramatic politicization of athletes by Black Lives Matter. 
Pero Gaglo Dagbovie analyzes the definitions of black history from W. E. B. Du Bois's The Souls of Black Folk and a survey of early black women historians lend further dimension and authenticity to the volume.  Additional topics include the hip-hop generation's relationship to and interpretations of African American history; past, present, and future approaches to the subject; and the social construct of knowledge in African American historiography.