The Bulletin of the Council for Research in Music Education provides a forum where contemporary research is made accessible to all with interest in music education. The Bulletin contains current research and reviews of interest to the international music education profession.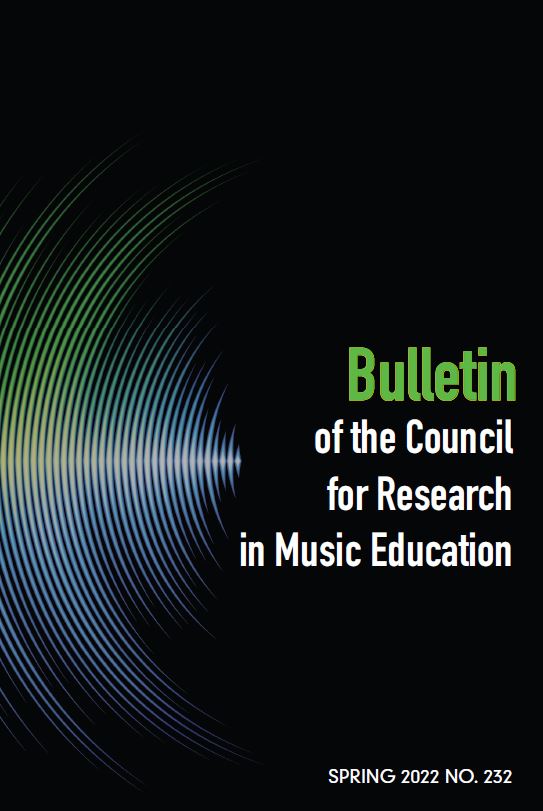 Editor Dr. Janet R. Barrett works with an advisory committee of music education's most prestigious researchers. The Bulletin of the Council for Research in Music Education provides an outlet for scholarly publication and is one of music education's leading publications.
The Bulletin welcomes articles that synthesize and discuss issues pertaining to a research topic relevant to and that will enhance knowledge of music teaching and learning. Submit timely, original research here.
Recommended Reading
We asked Dr. Barrett for a few examples that illustrate the quality scholarly work that appears in the Bulletin. She recommended the following pieces:
"Author an article addressing an increasingly pervasive educational movement centering emotions? I accept!" replied Lauren Kapalka Richerme, a policy specialist, when she was invited to describe how the Elementary and Secondary Education Act could support Social Emotional Learning (SEL).
"I have long acknowledged the emotional aspect of music making as a primary reason why I became a music educator, but since the vulnerability of such engagement kept it largely absent from my own teaching, I enthusiastically sought to deepen my understanding of SEL.
"However, in the process of completing the invited policy article, I felt uneasy with the language in the main SEL framework, the emphasis on measuring SEL, and the uncritical promotion of SEL within the music education profession. I contemplated beginning a second article in response, but I had not yet found a philosophical framework that adequately captured my concerns.
"Months later, I experienced excitement upon reading Wendy Brown's critique of neoliberalism, which I encountered randomly at a faculty reading group, because it provided conceptual understandings key for writing this equity focused SEL article. Philosophical writing often involves chance occurrences; it thrives through attunement to unsettling moments. It is social, emotional, and involves learning, but not necessarily SEL."
This article will be free to access from April 1, 2023, through June 30, 2023.
This article will be free to access from July 1, 2023, through September 30, 2023.
This article will be free to access from October 1, 2023, through December 31, 2023.
---
Outstanding Dissertation Award
The Council for Research in Music Education also recognizes impressive doctoral work through the Outstanding Dissertation Award.
Nominations for the 2022 Outstanding Dissertation Award will open later this year. Check back here for more information.