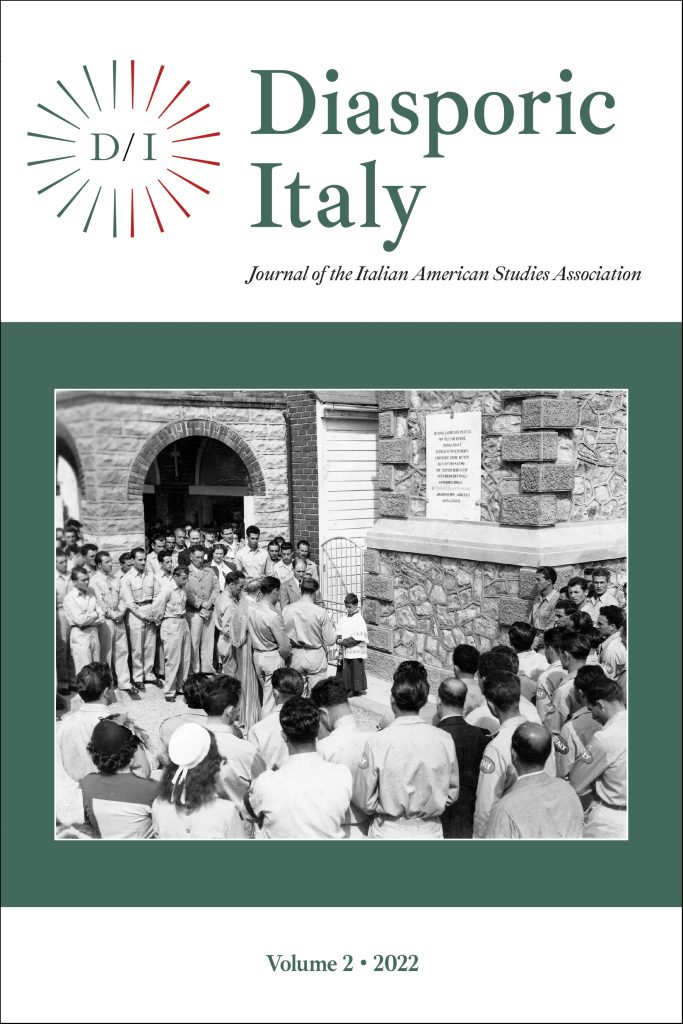 Diasporic Italy: Journal of the Italian American Studies Association is devoted to the Italian American / Diaspora. Interdisciplinary in nature, Diasporic Italy publishes on all aspects of the arts, humanities, social sciences, and cultural studies, and is particularly interested in comparative studies, pedagogy, and translation. Additionally, the journal encourages submissions on movement to, from, and within Italy conceptualizing all aspects of the diaspora including inter-coloniality and post(-)colonialism.
Diasporic Italy, edited by Ryan Calabretta-Sajder, is the official publication of the Italian American Studies Association.
Recommended Reading
Check out some of the past work published in Diasporic Italy:
"Italian Diasporic Studies: The Then and Now" by Anthony Julian Tamburri
"What is—or, what should be—that rallying point around which Italian Americans might find some sense of commonality?" Tamburri reflects on this and more in an article considering Italian diaspora and the collective experiences that bind ethnic groups in the United States.
This article will be free to access November 2023 through January 2024.
"Integrating Italian American Literature into the Multiethnic Syllabus" by Olivia Kate Cerrone, Kathy Curto, and Julia Lisella
In a study examining the dynamic generated from the inclusion of Italian American texts in college writing and literature courses that are not specifically focused on Italian American literature, the authors explore the distinct perspective of teachers in varying university settings and offer practical strategies for including Italian American texts in syllabi.
This article will be free to access February through April 2024.
"Carefully Considered? Paolo Bacigalupi's The Windup Girl (2009) and Embodied Representation" by Lisa DeTora
This article uses Paolo Bacigalupi's novel The Windup Girl to consider how unfortunate legacies of colonialism and sexual violence from the earliest science fictions can create a troublesome backdrop for newer works that deal with critical social and political problems. A new means of representing personal identities might enable the development of an Italian American speculative fiction that could prevent future harms and recuperate past experiences of inequity.
This article will be free to access May through July 2024.
"The Dangers of Italian Americans Reading (Besides Going Blind)" by Robert Orsi
What happens when an Italian-American boy living in the Bronx in the 1960s becomes absorbed in the world of books? In this essay, Orsi takes up the possibility that reading may represent betrayal, albeit perhaps a necessary one, and suggests that to become a scholar from a working-class background comes with pain, and that this pain may become a source of conceptual insight.
This article will be free to access August through October 2024.
Find Out More
Memberships to the Italian American Studies Association include subscription to Diasporic Italy. Learn more and become a member.
To recommend this title to your library, fill out this Library Request Form and provide to your library via email or in person. Many institutional libraries also have an online form you can fill out on their websites.  
Ready to see your work featured in Diasporic Italy? Submit original scholarly work here. 
Other Italian Studies Journals at University of Illinois Press