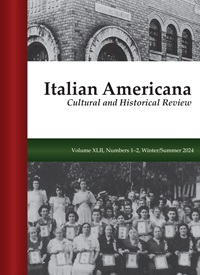 Italian Americana
Editor: Carla A. Simonini
DETAILS
Current Volume: -
Summer and Winter
ISSN: 0096-8846
eISSN: 2327-753X
About
Italian Americana is a double-blind peer-reviewed journal dedicated to exploring the Italian emigrant/immigrant experience through both scholarly and creative works. Founded in 1974 by Richard Gambino, together with Ernest Falbo and Bruno Arcudi, the journal was first published at Queens College, City University of New York. In 1989 Italian Americana's founders turned over the publication and editorship to Carol Bonomo Albright, who published the journal at the University of Rhode Island up until her retirement in the spring of 2015. The journal's next appointed editor, Carla A. Simonini, relocated Italian Americana first to Youngstown State University in Youngstown, OH, and later, in 2018, to Loyola University Chicago, where it now serves as a cornerstone of Loyola's endowed Paul and Ann Rubino Italian American Studies Program.

Although the journal has undergone several changes in editorial leadership, its mission has remained consistent since its original founding — i.e. to publish scholarly and creative works that explore the topic of Italian Americanness from a wide variety of perspectives. Italian Americana today maintains its long tradition of printing innovative articles by historians, social scientists, literary critics, and visual artists, among others, as well as presenting original works of fiction, poetry, and memoir. A number of writers whose early works first appeared in Italian Americana have, in fact, gone on to achieve national and international acclaim, which is a particular point of pride for the editorial team.
Beyond scholarly and creative offerings, each issue also features a book review section, which aims to introduce readers to the most recent contributions to the interdisciplinary field of Italian American Studies. We, the members of the journal's editorial staff at Loyola University Chicago University, are pleased to be able to maintain the legacy of Italian Americana and to continue to print the journal semi-annually, bringing our readership a winter and summer issue.

---
ONLINE + PRINT ADVERTISING
The print ad rates for all our titles can be found in the 2021 journals catalog/rate card.

Editors
Editor-in-chief
Carla A. Simonini
Loyola University Chicago
Crown Center 217G
1032 W. Sheridan Rd.
Chicago, IL 60660
Carla A. Simonini received a BA from Amherst College, an MA in Comparative Literature from the University of Rhode Island and a Ph.D. in Italian Studies from Brown University. Her research interests include 20th century and contemporary Italian literature, theories and methodologies of second language acquisition and constructs of italianità in American and Italian American literature, which was the subject of her doctoral dissertation. She has taught at Brown University, the University of Rhode Island and Skidmore College. From 2010 to 2018, she was an associate professor of Italian at Youngstown State University, where she coordinated the Italian program and taught courses on Italian language, culture, and literature as well as courses on Italian American identity for the American Studies program, and on Italian American literature for the English Department. She is currently the founding director and endowed professor of a newly inaugurated interdisciplinary program at Loyola University Chicago serving as the Paul and Ann Rubino Associate Professor of Italian American Studies.
Co-editor & Review Editor
John Paul Russo
Department of Classics
University of Miami
Coral Gables, FL 33124
John Paul Russo is professor and chair of the Department of Classics at the University of Miami. He has published books and essays on the theory of criticism, ethnicity, and history of culture. Recipient of three Fulbright Fellowships to Italy, he has taught at the universities of Palermo, Rome, Genoa, and Salerno. He was co-editor of RSA (Rivista di Studi Nord Americani) (2009-12). His The Future without a Past: The Humanities in a Technological Society was awarded the 2006 Bonner Prize. His study of representations of Italy, Italians, and Italian Americans, co-written by Robert Casillo and entitled The Italian in Modernity, was published by the University of Toronto Press in 2011.
Poetry Editor
Maria Terrone
Maria Terrone is the author of the poetry collections Eye to Eye (Bordighera Press, 2014); A Secret Room in Fall (McGovern Prize, Ashland Poetry Press); The Bodies We Were Loaned (The Word Works), and a chapbook, American Gothic, Take 2. Her prize-winning work, which has been published in French and Farsi and nominated four times for a Pushcart Prize, has appeared in such magazines as Poetry, Ploughshares, and The Hudson Review and in more than 25 anthologies. Her creative nonfiction credits include Witness, Briar Cliff Review, The Common, Potomac Review and other journals. www.mariaterrone.com
Fiction Editor
Christine Palamidessi Moore
Christine Palamidessi Moore is author of two novels, The Virgin Knows and The Fiddle Case. With Editor-in-Chief Carol Bonomo Albright, she co-edited American Women, Italian Style. She was Professor of Writing at Boston University for 13 years. Her memoir "Grandmothers" is engraved on a granite monolith at Boston's Jackson Square MBTA stop. Her non-fiction has appeared in publications as widely diverse and Andy Warhol's Interview, the New York Times, and Italian American collections. Currently working as a visual artist, Palamidessi is an awarded Visiting Artist at American Academy in Rome and Mass MoCa. She teaches several writing workshops for artists each year. www.palamidessi.com Insta@palamidessi.art
Editor-in-chief Emerita
Carol Bonomo Albright
Founded by Ernest S. Falbo and Richard Gambino
Past Editor Bruno A. Arcudi
Michael Palma Poetry Editor 2004-2015
Dana Gioia Poetry Editor 1994-2003