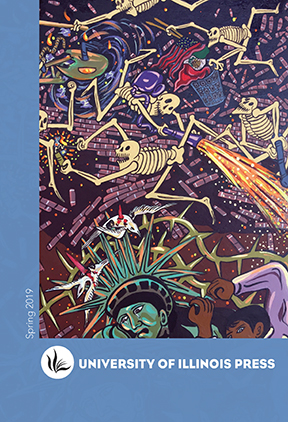 We are pleased to unveil the University of Illinois Press Spring 2019 catalog. We've got an excellent selection of books coming out this spring that we can't wait to get in your hands. This year, we've been celebrating the press's 100th anniversary, so it's fitting that the first catalog of our next century is a landmark one for the press. The Spring 2019 season will feature our first Spanish language translation, our new regional trade imprint, the first book in our new Black Internationalism series, and  mark the anniversaries of the New Black Studies series and The Asian American Experience series. You can expect to see more exciting initiatives and great books as we embark on our second century of exceptional publishing.
Highlights from the Spring 2019 catalog include:
Three biographies lead the catalog this season. Andrew E. Stoner tells remarkable life story of the pioneering and controversial journalist, Randy Shilts, who was one of the country's most recognized voices reporting on the HIV/AIDS epidemic. Michael C. Dorf and George Van Dusen consider the political powerhouse Sidney R. Yates in Clear it With Sid!: Sidney R. Yates and Fifty Years of Presidents, Pragamatism, and Public Serivice. And Melanie Holmes recounts the life and legacy of Volcanologist, David A. Johnston,  who lost his life in the Mount St. Helen eruption in 1980.
2019 will also mark the press's first foray into Spanish language publishing. In 2014, we published José Ángel N.'s memoir, Illegal: Reflections of an Undocumented Immigrant, in which he bravely and honestly details the constraints, deceptions, and humiliations that characterizes the life of an undocumented immigrant. This spring, we'll publish a Spanish translation and bring José Ángel's story to a new readership and audience. The cover for the Spanish language version features artwork from Nicolás de Jesús, which in turn also inspired our catalog cover this season.
Other new titles include:
To Turn the Whole World Over: Black Women and Internationalismedited by Keisha N. Blain and Tiffany M. Gill kicks off our new Black Internationalism series. Emily L. Thuma shines a light on the grassroots history of resistance to gender violence and the carceral state in All Our Trials: Prisons, Policing, and the Feminist Fight to End Violence, and Natalie Fixmer-Oraiz examines the intertwining of homeland security culture and control over women's bodies and agency in Homeland Maternity: US Security Culture and the New Reproductive Regime.
And that's just in the first few pages! Browse the new catalog and check out the rest!